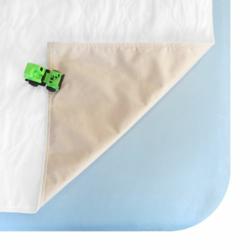 This innovative washable underpad is just what families need to prevent any odor that comes with bedwetting.
Fulton, MD (PRWEB) March 14, 2013
For parents who have a child who experiences bedwetting, they know that urine odor is especially hard to remove. No matter how often they scrub the mattress and wash the sheets, the urine odor quickly travels, causing the whole bedroom to reek.
To help parents combat this smelly problem, the Bedwetting Store, a leading supplier of bedwetting products, is now carrying the new HaloShield Underpad, a reusable underpad that eliminates odor-causing bacteria within minutes.
"This innovative washable underpad is just what families need to prevent any odor that comes with bedwetting," said Renee Mercer, a certified pediatric nurse practitioner and president of the Bedwetting Store. "Since it's washable, the HaloShield Underpad is an economic solution that can be used over and over again.
The HaloShield Underpad gets its odor-fighting power with the help of chlorine bleach. When the underpad is washed with bleach, the chlorine molecules bind to the special HaloShield coating to create a powerful agent that kills 99.9 percent of odor-causing bacteria within 10 minutes of contact.
The new underpad is available in five sizes. Mercer recommends the Medium with Wings because it comes with large tuck-in flaps that keep the pad in place, even while the child moves around during sleep.
"The HaloShield Underpad is a great addition to our selection of washable underpads," Mercer said.
About BedwettingStore.com
The Bedwetting Store is America's one-stop shop for bedwetting items and waterproof bedding. They have helped tens of thousands of children—and adults—since their start in 2000. They are now the largest distributor of enuresis related products in the United States. The Bedwetting Store is proud to serve the millions of families who seek information and practical solutions to help children stop wetting. They feature a wide assortment of quality products at discounted prices. You'll find their information at your child's pediatrician's office, in many popular parents magazines and on the Web, of course. Just ask your child's health care provider about the Bedwetting Store. If they specialize in treating childhood wetting, they'll likely recommend one of their products.