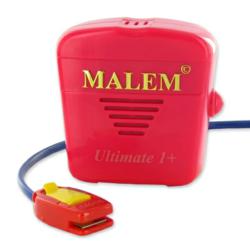 Recordable bedwetting alarms can help children respond better and achieve dry nights.
Fulton, MD (PRWEB) March 28, 2013
On March 22, NBC's Jeff Rossen reported that children can sleep right through the blaring sounds of a smoke alarm. In the investigative report, researchers set off a fire alarm to record how three young boys would react in a real fire. All three children stayed asleep until their parents woke them up. Researchers are currently working on a smoke detector that records parents' voices, in hopes that children will respond better in case of a real emergency.
"The findings of this report don't surprise me," said Renee Mercer, president of the Bedwetting Store, a leading supplier of bedwetting products. "Most children can sleep through anything, including bedwetting alarms. Parents are often cautious about bedwetting alarms because they're afraid their child won't wake up to the sounds. That's why we always recommend, that during the first few nights, parents are to help wake the child and remind them to use the bathroom when the alarm sounds. Eventually, the child will learn to get up on his or her own."
Mercer explains that bedwetting alarms that record parent's voices are already available. For example, the Malem Recordable Bedwetting Alarm plays a 10-second "user recorded" message when it senses moisture. This Malem alarm also offers a choice of eight pre-recorded sounds and vibration, giving families multiple options to help wake the deep-sleeping child.
"Recordable bedwetting alarms can help children respond better and achieve dry nights. Families have reported that recording their voice saying their child's name and giving instructions has helped with the bedwetting treatment process when other methods have failed," Mercer said. "Using an alarm with a recorded message or parents going to the room to do the waking are critical during the beginning process of bedwetting alarm treatment."
About BedwettingStore.com
The Bedwetting Store is America's one-stop shop for bedwetting items and waterproof bedding. They have helped tens of thousands of children—and adults—since their start in 2000. They are now the largest distributor of enuresis related products in the United States. The Bedwetting Store is proud to serve the millions of families who seek information and practical solutions to help children stop wetting. They feature a wide assortment of quality products at discounted prices. You'll find their information at your child's pediatrician's office, in many popular parents magazines and on the Web, of course. Just ask your child's health care provider about the Bedwetting Store. If they specialize in treating childhood wetting, they'll likely recommend one of their products.