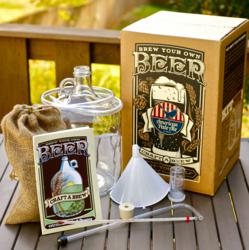 Each Craft a Brew Kit includes everything you need to turn Dad from beer lover into beer brewer
Orlando, FL (PRWEB) June 06, 2012
This Father's Day, the popular home brewing company Craft a Brew has created a gift that was made for Dad: Do-It-Yourself Craft Beer brewing kits. A unique gift in a sea of golf clubs and neck ties, these kits provide the perfect activity for Dad to enjoy on his special day.
Each 'Craft a Brew Kit' includes everything you need to turn Dad from beer lover into beer brewer, for just $45. The kits also include a book about the art and processes of brewing quality craft beer at home. The kits contain all the equipment needed along with the first recipe kit. Customers do not need to buy any complicated equipment: "You only need a stovetop, a pot and some empty beer bottles and you're ready to brew!"
Craft a Brew uses only high quality, fresh ingredients and the same basic processes that professional craft brewers use, at a price that is accessible to just about any beer drinker. They even get their fresh grains, yeast and hops from the same supplier that the American craft beer industry relies upon to brew their own beer.
Craft a Brew's Kits are currently available in 6 different beer styles: An American Pale Ale, Oak Aged IPA, a German style Hefeweizen, Smooth Brown ale, an Orange Golden Ale and even a Chocolate Milk Stout made with lactose sugar and organic cacao nibs. The kit includes one batch of ingredients, and customers can buy additional recipe kits for only $15 each.
Craft a Brew is running a sale though Father's Day that discounts their Deluxe Father's Day Gift Pack by 20% so you can get Dad the perfect gift and save money doing it.