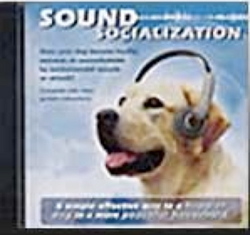 Asheville, NC (PRWEB) June 10, 2009
Act now to help the fearful pet dog, cat, or other animal be calm during the loud fireworks on the 4th of July. Visit http://angeldoginc.com/Products.html.
Sound socialization specialist, O'Neal Hendrix, master trainer and president of Angel Dog Inc. , offers suggestions to help calm pets that are anxious about loud sounds. A puppy can be trained to be calm to unexpected loud distractions. Also, a fearful pet can be counter-conditioned to reduce or eliminate anxiety and unpredictable behaviors that often cause injury to pets and damage or destruction to property.
Begin now in the home with exposure to sounds by playing fireworks sounds at low volumes during pleasurable times such as meals, sharing affection or petting. The key is to play the sounds at a low volume as to not disturb the pet. Gradually increase the volume over time while watching behavior. The volume is too loud if it causes the pet to react.
Volume sufficient to cause reaction by the pet will reverse progress. Move at their pace in training and the result will be a calmer, happier and safer pet.
During the fireworks there are steps to take.
Be present and calm with your pet when the sounds occur. Animals often take their cue from their people. Yawn, relax and be the fabulous leader you are to your dog. Leashing or crating is a good idea at these times.
Some pets handle noises by hiding. Provide a safe, quiet, dark space such as your closet. Clear a space out in the very back and put their bed there. Do not shut the door. Covering a pet's crate with a dark towel or blanket is good but be mindful not to overheat the enclosure. Outdoor pets may prefer a cool quiet basement or quiet dark garage. Providing cool, fresh water is important. Turning on a radio or TV for background music/sound is a helpful distraction making sure the broadcast is not the fireworks display.
Bach's Rescue Remedy is a wonderful naturally calming product available at most health food stores. Small dogs get one drop and a golden could be given 6 drops. Put drops in the palm of your hand, rub hands gently and then rub dogs chin, neck, and shoulders. They inhale the scent and it calms them down. This popular product can be used by people as well to calm and sooth the senses. It takes about 20 minutes to take effect.
Teach others to be loving and respectful of pets. If pets are disturbed by the sounds and your family enjoys setting off fireworks make arrangements to do this activity at another location instead of at home.
For more information on positive training for sound sensitive dogs, cats and other pets check out Angel Dog's Sound Socialization CD by visiting http://angeldoginc.com/Products.html or http://dogwise.com. (Training CD with complete instructions and sounds.)
O'Neal Hendrix is a thirty year master dog trainer. The last several years she has expanded her positive reinforcement training to successfully help other animals with behavior problems.
Contact:
O'Neal Hendrix
Angel Dog, Inc.
404-488-5770
http://angeldoginc.com
###