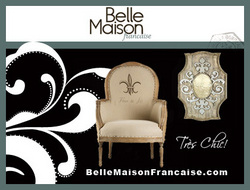 "Belle Maison makes it easy to find the most in vogue French furniture from designer showrooms right online," says Donna Jensen-Madier, president of Belle Maison.
Granite Bay, CA (PRWEB) April 5, 2011
(PRWEB) April 5, 2011 -- In response to the heightened popularity of today's refashioned French-style furniture, Belle Escape, a leading online retailer of hand-painted cottage style furniture, today announced the launch of Belle Maison Francaise (Belle Maison), a new online store that specializes in stylish French furniture and decor.
Belle Maison brings designer showroom shopping online, featuring a new wave of ultra chic French furniture modeled after the most popular period pieces. "French furniture is experiencing a modern-day renaissance," says Donna Jensen-Madier, founder of Belle Escape and Belle Maison. "Designer showrooms are filled with gorgeous reproductions of Louis and French Provencal style furniture, featuring classic shapes adorned with finishes and fabrics that appeal to today's aesthetic sensibilities. Belle Maison makes it easy to find the most in vogue French furniture from designer showrooms right online."
A revival in French furniture has been noted as one of the top 2011 furniture trends by industry experts worldwide. Top interior designers agree. "I've always found that French style is consistently popular with design clients because of its timeless classic style, elegant yet comfortable designs and how well these pieces mix with more modern furniture forms," says Linda Merrill, interior designer and editor of the popular design blogs Surroundings and The Skirted RoundTable.
With French style furniture being so diverse, Belle Maison segments its furnishings by style, including French Chic, Vintage French, Versailles Chic, Old Provence, French Country and Chateau. "Each style category has its own unique flavor," says Jensen-Madier. "For example, French Chic features a number of Louis-era pieces with imprinted French words while Old Provence features an array of vintage French farmhouse pieces in weathered finishes. Each category is designed to appeal to the distinct preferences of French furniture connoisseurs."
Belle Maison caters to consumers and interior designers in the U.S. and Canada. As a full-service online furniture store, Belle Maison offers custom finish options, special programs for interior decorators, free shipping on furniture shipped within the continental U.S. and personalized consultations.
About Belle Maison Francaise
Belle Maison Francaise is a new online boutique specializing in stylized French furniture. Belle Maison features the latest French style furnishings from designer showrooms. Belle Maison can be found online at BelleMaisonFrancaise.com.
About Belle Escape
Belle Escape is a premier online provider of hand-painted cottage chic furniture. Launched in 2008 by Donna Jensen-Madier, Belle Escape offers a wide array of painted and distressed furniture items and unique decor designed to transform any home into an oasis. For more information about the company, please refer to the online press kit. Belle Escape can be found online at BelleEscape.com.
Contact:
Press Relations
650-787-2228
press(at)BelleMaisonFrancaise(dot)com
###