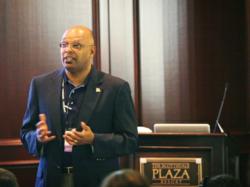 The Bellwether Team is pleased to share our innovative Lean Sourcing and Carbon Footprint Reduction Resources
Atlanta, GA (PRWEB) February 04, 2009
Bellwether Services announces a comprehensive Green Supply Chain Performance Tool and Green Supply Chain Glossary for Public Release. These extensive tools provides guidance to Logistics, Sourcing, Industrial Engineering, Procurement, Sustainability, Information Technology (IT), Supply Chain, Environmental, Health, and Safety (EH&S) Professionals.
As a Corporate Social Responsibility (CSR) and ISM Sustainability advocate, Bellwether progressively utilizes a green supply chain thought leadership approach with tools such as the Bellwether Green Supply Chain Maturity Model in 2008 and now in 2009 with the release of two transformational tools; Green Supply Chain Glossary and Green Supply Chain Performance Tool.
The Green Supply Chain Glossary provides operational definitions to lean sourcing and supply chain professionals, bringing together often misunderstood environmental concepts into one comprehensive document. This glossary can be used to develop future sourcing events such as; request for proposals (RFP), request for quote (RFQ), and mergers and acquisitions (M&A) activities.
The second transformational tool, Green Supply Chain Performance Tool, is a continuous improvement instrument that offers an overview of various green supply chain performance drivers including; Air Emissions, Sourcing Events, Supplier Environmental Performance and many others.
"The Bellwether Team is pleased to share these innovative and useful Lean Sourcing and Green Supply Chain materials," says John Wilkerson, CPSM, SSMBB, Executive Director. He continues, "We see of our sourcing and supply chain tools as must have for future Green Supply Chain Transformations or Cost Reduction events."
Details can be found at:

Bellwether Services:
An internationally recognized Green Supply Chain, Spend Management, Lean Six Sigma, and Quality Audit solution provider, Bellwether Services is dedicated to numerous industries such as; Private Equity, Beverage, Chemical, Food, Aerospace, Financial Services, Global Logistics Solution Providers, as well as Public Health, Medical Devices, Pharmaceutical and the Departments of Defense and Homeland Security.
For more information, please visit our website @ htttp://http://www.bellwether-services.com/target_market.html.
Contact:
John Wilkerson
http://www.bellwether-services.com/target_market.html
404.386.2437
"Our Mantra ~ Believe, Execute, Achieve"
###