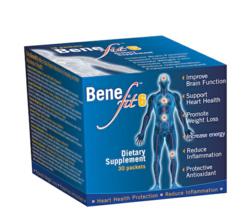 "Of the seven studies, five trials reported a significant inverse association between chocolate intake and cardiometabolic disorders."
Rancho Palos Verdes, CA (PRWEB) September 24, 2012
Benefit6 Whole Body Protection by I Do Strive, LLC is the first product to focus on six key areas of health to provide consumers with the most comprehensive whole body protection supplement including weight loss.
At the American Heart Institute's conference in 2011 Harvard researchers looked at 21 studies involving 2,575 participants and found that cocoa consumption is associated with decreased blood pressure, improved blood vessel health, and improvement in cholesterol levels, among other benefits. Eric L. Ding, PhD, of Harvard Medical School believes the healths benefits come from polyphonic flavonoids in cocoa.
A meta analysis conducted by the British Medical Journal (BMJ) in 2011 reported the following. "Of the seven studies, five trials reported a significant inverse association between chocolate intake and cardiometabolic disorders. For example, individual studies showed reductions in the risk of coronary heart disease, the risk of cardiovascular disease mortality, and the risk of incident diabetes in men."
A presentation at the European Society of Cardiology (ESC) 2011 Congress showed that people who consumed the most chocolate had a 29% lower risk of stroke compared with people who consumed the lease amount of chocolate.
A study published in Nutrition and Metabolism is the first to show how omega 3 fatty acids play a role in metabolic processes with respects to blood sugar and fat processing; reducing the risk of developing type 2 diabetes. Professor Brier leads an international research team and indicates omega 3 fatty acids improve carbohydrate and fat metabolism. A diet rich in omega 3 fatty acids helps to burn metabolic fuels (glucose and fat) better, and can regulate energy storage across different tissues.
"These findings are important because the ageing process is closely linked with a higher risk of developing metabolic syndrome – a clustering of risk factors for heart disease, diabetes and obesity," says Professor Breier, Chair of Human Nutrition at the Institute of Food, Nutrition and Human Health at Albany.
Benefit6 is formulated to provide Whole Body Protection by focusing on key areas of health, including brain function, cardiovascular health, weight loss, energy production, inflammation reduction and antioxidant support. Benefit6 is conveniently packaged for optimal use and results.  
By
Benefit6
The impact of chocolate on cardiovascular health.
Fernández-Murga L, Tarín JJ, García-Perez MA, Cano A.
Maturitas. 2011 Aug;69(4):312-21. Epub 2011 Jun 12. Review.
Effects of chocolate, cocoa, and flavan-3-ols on cardiovascular health: a systematic review and meta-analysis of randomized trials.
Hooper L, Kay C, Abdelhamid A, Kroon PA, Cohn JS, Rimm EB, Cassidy A.
Am J Clin Nutr. 2012 Mar;95(3):740-51.