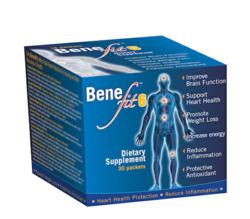 "Alpha-lipoic acid may be considered as adjunctive therapy for obesity."
Rancho Palos Verdes, CA (PRWEB) September 19, 2012
Benefit6 Whole Body Protection by I Do Strive, LLC is the first product to focus on six key areas of health to provide consumers with the most comprehensive whole body protection supplement including weight loss.
According to a study published in the American Journal of Medicine Alpha-Lipoic Acid promotes overall weight loss of up to 5%.
"In the randomized, double-blind, placebo-controlled, 20-week trial, 360 obese individuals (body mass index [BMI] ≥ 30 kg/m(2) or BMI 27-30 kg/m(2) plus hypertension, diabetes mellitus, or hypercholesterolemia) were randomized to alpha-lipoic acid 1200 or 1800 mg/d or placebo. The primary end point was body weight change from baseline to end point. The 1800 mg alpha-lipoic acid group lost significantly more weight than the placebo group (2.1%; 95% confidence interval, 1.4-2.8; P<.05)."
The study concluded, "Alpha-lipoic acid may be considered as adjunctive therapy for obesity." Additionally, chromium works to block carbohydrate absorption and food uptake. L-arginine increases nitric oxide production and enhances oxygen and nutrient delivery to active muscles, improving tolerance to physical exercise and recovery mechanisms. Cocoa has been proven to increase energy and overall mood support.
Benefit6 is formulated to provide Whole Body Protection by focusing on key areas of health, including brain function, cardiovascular health, weight loss, energy production, inflammation reduction and antioxidant support. Benefit6 is conveniently packaged for optimal use and results.  
Effects of alpha-lipoic Acid on body weight in obese subjects.
Koh EH, Lee WJ, Lee SA, Kim EH, Cho EH, Jeong E, Kim DW, Kim MS, Park JY, Park KG, Lee HJ, Lee IK, Lim S, Jang HC, Lee KH, Lee KU. Am J Med. 2011 Jan;124(1):85.e1-8.
Curcumin and obesity: evidence and mechanisms.
Alappat L, Awad AB. Nutr Rev. 2010 Dec;68(12):729-38. doi: 10.1111/j.1753-4887.2010.00341.x. Review.PMID: 21091916 [PubMed - indexed for MEDLINE]