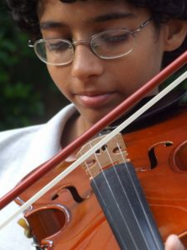 Salt Lake City, UT (PRWEB) March 01, 2013
WhoHasTheRemote.com believes music is one of the most powerful forms of creativity among human beings. The site also champions musical training as a mind-broadening component for young boys and girls. Few would argue that learning an instrument has anything but the most positive effects on a child.
Some people believe – or would at least like to imagine – that musical training can also boost a child's broader intellectual aptitude. While the theory has held no scientific basis, it has nonetheless inspired several generations of parents to enroll their little ones into classes for flute, piano, and violin.
However, recent studies have surfaced which basically refute the correlation between musical training and intellectual performance. As reported in The Telegraph, the prime motivator for high achievement in children is an optimal family background.
Even if musical skill is nothing more than an end unto itself, such abilities can be wonderful for any child. Kids that learn to play classical instruments often develop broader vernaculars than children who are raised on diets of pop music through satellite tv and internet sites.
For some families, playing music has been a primary form of home entertainment across generations. While the tradition is limited primarily to regions steeped in folk music – the Celts of Brittany, Ireland, and Scotland are prime examples – it could have broader appeal if more parents would musically engage their children at younger ages.
WhoHasTheRemote.com hopes that more children learn to play musical instruments. With skills in piano, strings, brass, and percussion comes a broader appreciation of music at large, from folk and world beat to classical and jazz.
About Who Has The Remote?:
WhoHasTheRemote.com explores various findings that pertain to the lives of parents and children. With so many new concepts being floated in regards to diets, health, and communication, the site does its part to keep families on the right track.