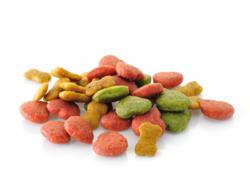 If we collectively take a stand against brands like Beneful, they will eventually be forced to change.
Boca Raton, FL (PRWEB) March 01, 2013
Since October, 2012 the Consumer Affairs website, which publishes consumer news, recall information, and collects consumer comments and complaints has received over 400 complaints of Purina Beneful dog food making dogs sick.
Dog owners are complaining on Beneful's Facebook page, reporting such illnesses as vomiting, diarrhea, excessive thirst, lethargy, weight loss, and seizures after only a few meals of Beneful dog food. Other, less-frequent complaints, have reported bloat (a life-threatening condition in dogs), liver failure, kidney failure, and even death.
Several groups, such as one entitled "Is Beneful by Purina Sickening or Killing Dogs?" have formed on Facebook for dog parents to share their experiences with the food. The Pittsburgh news station, Target 11 recently aired a story citing examples of dogs that were ill, including Mazey, a 2-1/2 year old English Mastiff who's veterinarian suspected aflatoxins, which can be found in moldy grains, were the cause of the dog's illness.
Despite hundreds of complaints about the dog food, Nestlé Purina, who makes the Beneful line of dog foods, insists that the food is perfectly safe for dogs. Purina spokesperson, Keith Schopp told MSN News that the online postings "contain false and misleading allegations and cause undue concern and confusion among consumers." He continued, "There are no known product issues with Beneful dog food. Consumers can continue to feed Beneful to their pets with total confidence."
The Dogington Post reached out the the Food & Drug Administration with concerns about what appears to be a lack of action or interest in the complaints against Beneful. The FDA admitted that they have received "some" complaints about Beneful and are "looking into the situation." The FDA is also urging consumers to report any problems associated with the popular dog food by visiting the FDA's online Safety Reporting Portal.
In response to the apparent lack of action by Purina Beneful and the FDA, the Dogington Post launched a social media campaign, via their Facebook and Twitter pages, urging dog lovers to stop feeding Beneful dog food to their dogs. The site is also encouraging consumers to contact major retailers and insist that they remove the product from their shelves.
"It is up to us, the consumers and dog owners, to stop supporting brands that don't take action after hundreds and hundreds of complaints," said Brandy Arnold, Content Editor for Dogington Post. "If we collectively take a stand against brands like Beneful, they will eventually be forced to change."
The Dogington Post reaches up to 2.5 Million dog lovers each week. The site promotes consumer awareness and education, especially on the topic of nutrition for dogs, urging pet parents to familiarize themselves with the ingredients in the dog food they choose to feed their pets.
Tens of thousands of the site's dog-loving fans have read and shared the Dogington Post's articles regarding Beneful dog food, other pet food and treat recalls, and many articles warning consumers about the dangers of certain ingredients found in many popular brands of dog food. The site continues to provide consumers with resources and suggestions for healthy feeding.
For more information about Dogington Post and their efforts to promote dog health and nutrition, visit http://dogingtonpost.com.
About Dogington Post:
DogingtonPost.com was created for the love of dogs. It promises a forum of informative articles, newsworthy dog stories, health and breed information, and heartwarming videos. The site addresses current issues affecting dogs and their human parents – from serious health concerns to lifestyle issues on feeding, grooming and the overall well-being and mental health of dogs. It is the Internet newspaper, all about dogs.