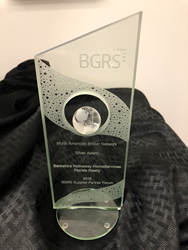 This honorable recognition is a reflection of our hardworking Sales Professionals and relocation team that go above and beyond to deliver exceptional customer service," commented Rei L. Mesa, President, CEO
SUNRISE, Fla. (PRWEB) November 14, 2018
Berkshire Hathaway HomeServices Florida Realty was recently honored with the 2018 'Outstanding Performance and Commitment to Service Excellence' Relocation Award by BGRS at the Supplier Partner Forum and Superior Performance Recognition event in Seattle, WA on October 16, 2018.
The event was held to recognize superior supplier performance in relocation. With an ongoing focus on superior service excellence, BGRS continues to collaborate with companies like Berkshire Hathaway HomeServices Florida Realty to enhance performance management and bring solutions and value to the clients and customers.
BGRS develops and implements comprehensive talent mobility solutions for corporate and government clients worldwide with more than 1,500 people across six continents.
"We are honored to be recognized for this esteemed award as it represents the exemplary service, dedication, and commitment amongst our team for our customers," said Sharon Sapp, Vice President, Relocation and Referrals, Berkshire Hathaway HomeServices Florida Realty.
"This honorable recognition is a reflection of our hardworking Sales Professionals and relocation team that go above and beyond to deliver exceptional customer service. We congratulate and thank them for their commitment to our customers, company and industry," commented Rei L. Mesa, President, Chief Executive Officer, Berkshire Hathaway HomeServices Florida Realty.
About Berkshire Hathaway HomeServices Florida Realty
Berkshire Hathaway HomeServices Florida Realty serves 21 counties throughout Florida with over 40 locations and approximately 1,750 Sales Professionals. The full-service brokerage company, founded in 1999, is a subsidiary of Lennar Corporation, a Fortune 500 company and is a franchise member of the Berkshire Hathaway HomeServices' network, one of the few organizations entrusted to use the world-renowned Berkshire Hathaway name. The company offers residential and commercial services as well as seasonal rentals, property management, REO & Foreclosures, corporate relocations, referral services, mortgage, title, home service plans, and personal concierge services. Berkshire Hathaway HomeServices Florida Realty ranks in the Top 10 in the network among 47,000 Sales Professionals, 1,400 offices throughout 47 states. The company is the overall No. 1 fundraiser for The Sunshine Kids Foundation, having generated more than $3.5 million since 2001.