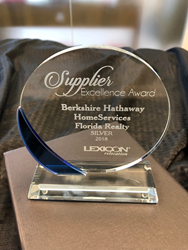 This recognition reflects the hard work that goes into always delivering exceptional customer service. We congratulate and thank our entire team of sales professionals and support staff for their commitment to our customers, company and industry," commented Rei L. Mesa, President and CEO
(PRWEB) October 31, 2018
The event, attended by more than 150 global mobility organizations, was held to recognize customer satisfaction, performance and partnership excellence. After a welcome opening statement by Craig Donovan, SVP of Global Network Integration, the awards were presented by Rob Eagleson, Director of Global Network Integration.
Global providers were recognized by Lexicon's & Sterling's Global Network Integration professionals from among a field of qualified entrants within the global mobility industry.
Excellence Awards were presented based on above-average industry benchmark levels.
"We pride ourselves on the exemplary level of commitment that both our staff and our real estate sales professionals demonstrate in everything that they do. It is an honor and privilege to be recognized for this award as it represents the time, dedication, teamwork and outstanding service amongst our team for our customers," said Sharon Sapp, Vice President, Relocation and Referrals, Berkshire Hathaway HomeServices Florida Realty.
"This recognition reflects the hard work that goes into always delivering exceptional customer service. We congratulate and thank our entire team of sales professionals and support staff for their commitment to our customers, company and industry," commented Rei L. Mesa, President, Chief Executive Officer, Berkshire Hathaway HomeServices Florida Realty.
Berkshire Hathaway HomeServices Florida Realty serves 21 counties throughout Florida with over 40 locations and approximately 1,750 Sales Professionals. The full-service brokerage company, founded in 1999, is a subsidiary of Lennar Corporation, a Fortune 500 company and is a franchise member of the Berkshire Hathaway HomeServices' network, one of the few organizations entrusted to use the world-renowned Berkshire Hathaway name. The company offers residential and commercial services as well as seasonal rentals, property management, REO & Foreclosures, corporate relocations, referral services, mortgage, title, home service plans, and personal concierge services. Berkshire Hathaway HomeServices Florida Realty ranks in the Top 10 in the network among 45,000 Sales Professionals, 1,350 offices throughout 47 states. The company is the overall No. 1 fundraiser for The Sunshine Kids Foundation, having generated more than $3.5 million since 2001.