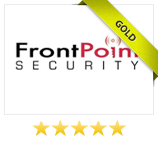 FrontPoint Security still impresses our experts with the best technology, pricing, and customer service. 2013 should be a big year as the company continues to innovate.
Chicago, Illinois (PRWEB) March 20, 2013
AlarmSystemReport.com announced today that their industry-leading home alarm system reviewers have completed their annual ranking and review of FrontPoint Security. FrontPoint is a nationwide home alarm and security company headquartered in Virginia that offers a wide variety of home security services, including home alarm systems, alarm system monitoring services, and home automation services.
AlarmSystemReport.com's reviewers ranked FrontPoint Security highly in virtually every review metric the company uses, including affordability, reliability, customer service, technical support, equipment performance and reliability, and overall value.
More specifically, FrontPoint Security earned extremely high marks for its dedicated customer service and for its leading edge wireless alarm system, including a control panel through which homeowners can easily monitor and configure a wide variety of sensors and other alarm system equipment. The company's DIY product offerings also scored well on the ease of installation metric, with many customers reporting that they were able to easily and quickly install the system without the assistance of technical support or professional installers.
To date, FrontPoint Security has the highest overall ranking of any home alarm system company, as well as the highest subcategory ranking in best DIY and best wireless alarm systems. FrontPoint just barely eeked out Protect America for its current position, and Vivint Security still ranks higher than FrontPoint on the home automation system scale.
"FrontPoint has really gone out of its way to provide an enjoyable customer experience that matches the high caliber of its wireless alarm system equipment. It may not be the most experienced or established company in the home alarm system sector, but it's proven over the past five years that it can continue to innovate technologically while providing its customers with a high level of value and affordability. The company is also extremely transparent and has been among the most cooperative in providing our reviewers with everything they need to complete their analysis of the company. FrontPoint ended last year as our highest ranked alarm system company, and I wouldn't be surprised if they end 2013 in that position as well."
The complete FrontPoint Security review can be found online for free at alarmsystemreport.com. Interested readers can also access a wide variety of information about the home alarm system market, as well as the website's collection of professional consumer reviews of a number of other top alarm system providers and monitoring services.
About AlarmSystemReport.com
As one of the nation's most trusted and widely recognized sources for independently researched consumer information on home alarm system industry, Alarm System Report works hard to provide potential home alarm and security system shoppers with everything they need to make the most informed decisions possible about their home's next home alarm system and monitoring service provider. The company is best known for its annual rankings of best overall home alarm system company, best wireless alarm system, top home automation systems, best cellular monitoring systems, and best DIY alarm systems. By relying upon both independently contracted home security consultants and an in house staff of experienced writers and reviewers, Alarm System Report ensures that its reviews and other consumer content are as accurate and up-to-date as possible and filled with the facts and information consumers need.