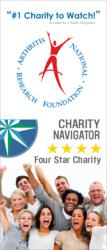 ANRF ranks among the top five percent of charities evaluated by Charity Navigator.
Long Beach, CA (PRWEB) March 20, 2013
Charity Navigator, America's premier online charity evaluator, has ranked the Arthritis National Research Foundation (ANRF) as the #1 charity to watch in 2013. Charity Navigator recently awarded ANRF its highest four-star rating for sound fiscal management for the 5th consecutive year, signifying that the Arthritis National Research Foundation is one of the best charities in America. ANRF, based in Long Beach, California and not to be confused with the Atlanta, Georgia based Arthritis Foundation, was praised by Charity Navigator for its commitment to superior accountability and transparency for a nonprofit organization.
Learn more about the Charity Navigator top-ten list.
Discerning donors are asking questions before they give. They look for accountability, transparency and results to ensure the organizations they support are putting their hard earned dollars to good use. The Arthritis National Research Foundation is that charitable organization. For over 40 years ANRF has funded grants for scientists and investigators searching for treatments and cures for the varying forms of arthritis. Over 91% of donations received are put into research programs. Low administrative overhead means more funding available for groundbreaking research. Over 200 scientists have been funded since the Foundation's inception, resulting in many scientific breakthroughs in the field.
According to Charity Navigator's website, the "Ten Charities Worth Watching," is a list of "lesser known charities that are truly exceptional." As the top-ranked charity on the list, the Arthritis National Research Foundation stands out among the other elite charitable organizations with budgets of less than $2 million a year.
Receiving four out of a possible four stars from Charity Navigator proves that ANRF practices good governance, earning the trust of its donors. Because the foundation has been awarded this distinction five years in a row, it ranks among the top five percent of charities evaluated by Charity Navigator, meaning it outperforms 95% of all other charities in America. ANRF is working towards its mission to cure arthritis through research and this rating assures the public that their investment by supporting ANRF is warranted.
Forbes, Business Week, as well as other financial publications have praised Charity Navigator for showcasing its unique and responsible method of evaluation. Charitable organizations and donors look to Charity Navigator to be an effective, independent review of a charity's efficiency and transparency.
In order to accomplish it's mission to cure arthritis, the Arthritis National Research Foundation receives no government funding; it operates solely from the generosity of caring individuals committed to making a difference in the lives of those afflicted with arthritis. Donors choose the Arthritis National Research Foundation because every gift – large and small – makes a big impact in the field of arthritis research. Verified by the transparency and success documentation on CureArthritis.org as well as by independent review sites like Charity Navigator and Guidestar.
ANRF funds research grants for juvenile arthritis, osteoarthritis, lupus, rheumatoid arthritis and related autoimmune diseases. The grants are decided by an all-volunteer Scientific Advisory Board, composed of world-renowned rheumatologists and research scientists. ANRF has grown from a local organization funding originally only a few grants per year, to supporting 15-20 projects annually.
It is with great gratitude that the Arthritis National Research Foundation accepts this four-star distinction and strives to remain one of America's best charities in an effort to continue it its mission of funding the best of the best to cure arthritis.