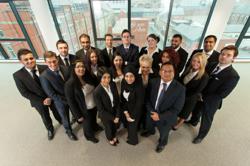 we're glad that our efforts and focus upon employee development and satisfaction are being recognised
Bolton, United Kingdom (PRWEB UK) 22 March 2013
Following the expansion of their training and development programs, the results of their most recent 'Best Companies' survey has seen them achieve this prestigious accolade.
With Asons Solicitors planning to double the size of its workforce in the coming months, it demonstrates their commitment to employee development, which they hope will attract greater talent from across the region to help them to establish their corporate services department.
Commenting on the achievement, Marketing Executive and recent 'new starter' Tom Fairclough stated that:
"When I came in for my initial interview, I was particularly impressed by Asons commitment to employee training. Not only have they achieved the best 'companies' award, but they've also retained their Investors in People Gold Award as well. Since starting, I've already learnt a great deal from both internal training and externally led courses."
The Sunday Times have been awarding the 'Best Companies' Accreditation since 2006. The award acknowledges continuous excellence in the workplace (1). Asons has proudly received the award for focusing upon Workplace Engagement.
Workplace Engagement is seen as a vital component of an organisation's continuous success and growth. Asons recognition of this, sees that they continuously develop their employees, systems and processes in pursuit of operational and service excellence.
91% of Asons' employees agree that their position is good for their own personal growth and career development.
To facilitate this personal growth, a plan is created every four months to ensure that employees are on track to reach their true potential. The company looks at ways in which they can help employees to overcome their weaknesses, developing them to meet the employees' own goals as well as business objectives. (2)
The survey identified key areas where Asons had excelled in looking after their employees; with the majority saying that they felt they made a valuable contribution to the business.
These results also helped Asons to identify new areas for improvement.
Asons discovered that case-loads and targets were incredibly important to employees, so they felt it was important to lower case-loads and targets to make them more achievable, improving motivation and employee satisfaction.
Commenting on their success, CEO Mr Imran Akram stated that:
"We have plans to take on over 100 additional employees, whilst expanding to a 3rd floor. With this in mind, we're glad that our efforts and focus upon employee development and satisfaction are being recognised. We hope that this will attract talent of a high calibre to help us grow and develop the firm further over the coming years"

About Asons Solicitors:
Asons Solicitors is a Bolton-based law practice that specialises in personal injury and industrial disease claims. Founded by brothers Imran Akram and Kamran Akram, Asons Solicitors has developed to become a young and dynamic law firm that delivers practical solutions to clients in times of difficulty. Their continued focus on their staff has seen them awarded with the Investors in People "Gold Award"; which is reflected in the professional and personable approach they take in working with clients. They strive to grow and to develop, and their supportiveness and attention to detail ensures that their clients use them time and again.
For further information contact:
Email: info@asons.co.uk
Website: http://www.asons.co.uk
(1) Best Companies – Accreditation 2013 h http://www.b.co.uk/Accreditation/AccreditedCompanies.aspx?Survey=132&Rating=137&Company=197299
(2) Best Companies Guide – Asons Solicitors http://www.bestcompaniesguide.co.uk/company_profile.aspx?companysurveyid=197299
(3) Manchester Evening News – Asons Solicitors http://www.manchestereveningnews.co.uk/business/professionals/professionals-news-in-brief-698887