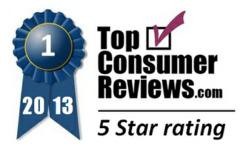 TopConsumerReviews.com has discovered several key factors to look for in a debt relief company.
Overland Park, KS (PRWEB) March 16, 2013
TopConsumerReviews.com has announced several top factors in choosing a debt relief company. TopConsumerReviews.com provides independent reviews for thousands of products, including debt relief programs, in order to help consumers make better informed decisions.
A weak economy, job loss, adjustable rate mortgages, health issues and living beyond household means are several top reasons many Americans are finding themselves deep in debt. If they are being harassed by creditors or collection agencies they may be feeling insurmountable pressure to resolve their debt issues, but need help doing so. Debt relief services are a viable solution to assist people with getting out of debt and start meeting their monthly obligations with far less pressure. But how does someone choose a debt relief company? TopConsumerReviews.com has discovered several key factors to look for in a debt relief company.
Options. Look for a company that provides debt relief options including, but not limited to, both debt settlement and debt consolidation services. It's important to find a company that provides more than one service so that the best solution is available fro that consumer and their specific needs.
History. Search for a company that has a solid history of providing customers the most professional level of debt relief assistance. Companies that have been in business for only a short period of time will not have enough history and customer feedback to be a viable solution.
Fees. The government regulates how debt relief companies charge for their services but that doesn't mean all companies follow the rules. Debt relief companies are not supposed to charge any upfront retainer fees but the laws can vary by state. Look for a debt relief company that charges their fees after the settlement process and who is clear and forthcoming with any and all costs to the consumer.
Customer Service. Having a friendly and knowledgeable debt counselor during the debt relief process is imperative to help relieve the stress associated with the effort. Choose a company that has a history of putting the customer first. Other customer friendly services may include online access to view account balances and the current status of the debt settlement process.
To find out more about debt relief companies, including reviews and comparison rankings, please visit the Debt Relief Programs category of TopConsumerReviews.com at http://www.topconsumerreviews.com/debt-relief/.
About TopConsumerReviews.com
TopConsumerReviews.com, LLC is a leading provider of independent reviews and rankings for thousands of consumer products and services. They offer the latest on Debt Relief including information, education, and ratings for the best debt relief programs available today.