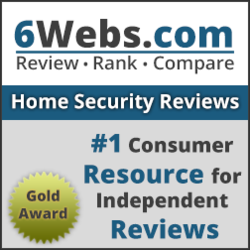 Research and compare the leading home alarm system providers on 6Webs.com. The number one resource for consumers.
Charleston, SC (PRWEB) March 16, 2013
6Webs.com is the leading providers of independent home security systems reviews and has helped thousands of consumers purchase the best alarm system for their home and family. 6Webs.com recently finished conducting their annual reviews of the best home alarm system companies where dozens of alarm providers are investigated and ranked according to multiple factors. Those factors include closely investigating their monitoring technology, installation and setup, customer service records, equipment and warranties provided.
In addition to conducting the overall reviews the leading security systems reviews site also publishes subcategories like best wireless alarm provider and best cellular alarm monitoring company. The 2013 winner for the best do-it-yourself or DIY home alarm system company is FrontPoint Security. FrontPoint Security offers their customers with wireless alarm system components that can be installed in under 15 minutes. FrontPoint Security preconfigures their home security systems before they are shipped to the customer so it makes setup and configuration a breeze.
The second place winner for the 2013 best DIY home alarm system company went to Protect America. Protect America provides their customers with a range of home security equipment packages with various types of monitoring services including cellular monitoring services. Protect America pioneered the DIY home alarm system market and has been an industry leader ever since.
To view the features and services offered by the leading home alarm monitoring providers in a side-by-side comparison visit 6Webs.com at:
http://www.6webs.com/home-security-systems-reviews/
While conducting the 2013 home security systems reviews, the 6Webs.com team discovered that customers prefer DIY home security systems as they are less expensive to install and can be configured quickly. The leading DIY home security system providers all offer wireless home security systems that can be taken with a homeowner should they ever decide to move.
About 6Webs.com
6Webs.com is focused on helping consumers with researching the best home security systems for their home and family. The leading security providers can be compared side-by-side on the 6Webs.com website. This is the second year that 6Webs.com has published their annual home security system reviews of the leading security providers.