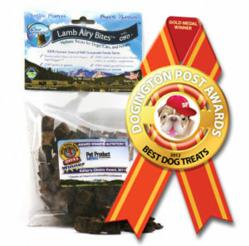 Of all the treats we've sampled and tested, Clear Conscience Pet's Lamb Airy Bites are the ONLY one that not a single dog turned their nose up at!
Boca Raton, FL (PRWEB) February 06, 2013
As part of a larger initiative to educate dog owners on proper nutrition, effective training, and other ways to raise a happy and healthy dog, the Dogington Post reviewed products, toys, food, treats and trainers for their first annual Dogington Post Awards of 2012.
"We used strict criteria when nominating companies and products for these awards," explained Brandy Arnold, Content Editor for Dogington Post. "The Best Dog Treat nominees are made from the highest quality, most nutritional ingredients, are sourced in the USA and, of course, are delicious!"
Readers and fans voted for the Best Dog Treat and chose Lamb Airy Bites as their favorite.
Lamb Airy Bites, by Clear Conscience Pet, are delectable, bite-sized, melt-in-your-mouth treats made from slow-roasted, pasture-raised lamb lung – a natural source of protein, vitamins, and minerals, with a rich, meaty taste that dogs love. These treats contain no grains or glutens; no artificial preservatives, flavors, colors, or synthetic supplements; they are GMO free; and very low in carbs. What's more, Clear Conscience Pet only sources their ingredients from sustainable family farms in the United States. The livestock at these farms are not kept in pens or cages, but are free to roam and graze among others in their own species. And, they are raised naturally, without hormones, steroids, or antibiotics.
"We are proud to announce Clear Conscience Pet as the gold medal winner in our Best Dog Treat category," said Arnold. "Of all the treats we've sampled and tested, Clear Conscience Pet's Lamb Airy Bites are the ONLY one that not a single dog turned their nose up at."
In response to receiving the Dogington Post gold medal award for Best Treat, Anthony Bennie, Founder and President of Clear Conscience Pet said, "Wow! Thank you so much for your incredibly kind words, and for your support of CCP's intentfully formulated and cleanly sourced products. Our goal has been to give our customers products they can use with total confidence and, of course, Clear Conscience!"
Dogington Post reaches over 2.5 million dog lovers each week. The site's readers were asked to vote for their favorite dog treat in an online contest that ran through December 2012 and January 2013.
For more information about Dogington Post and their Dogington Post Awards, visit http://dogingtonpost.com.
About Dogington Post:
DogingtonPost.com was created for the love of dogs. It promises a forum of informative articles, newsworthy dog stories, health and breed information, and heartwarming videos. The site addresses current issues affecting dogs and their human parents – from serious health concerns to lifestyle issues on feeding, grooming and the overall well-being and mental health of dogs. It is the Internet newspaper, all about dogs.
About Clear Conscience Pet:
Clear Conscience Pet, LLC. is an American 100% family-owned business dedicated to creating groundbreaking healthy treats and food enhancing SuperGravies that pets love. Clear Conscience Pet is committed to making the healthiest, most nutritious, and most FUN and flavorful pet treats, chews, and pet food enhancers ever made! We utilize the cleanest and purest sources available without compromise. We won't settle for anything less than the 100% COMPLETE SATISFACTION of our customers and their beloved animal companions. We enable animal lovers to "Treat with Clear Conscience" in every way! http://clearconsciencepet.com