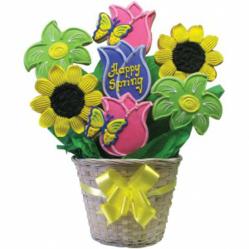 Islipm, NY (PRWEB) March 15, 2013
For the Best Easter 2013 gift baskets, there's surely no one better than Clever Cookie. Going against the norm of generic, standard gifts, the company has been innovating the way people celebrate holidays by providing exquisite cookie baskets and arrangements. This year around the company has introduced another set of beautiful delicacies that are sure to attract immense attention. Keeping in mind the current global economic scenario, Clever Cookie has decided to cut prices, with packages starting at just under $35.
At Easter, nearly everyone gives the same old genre of gifts. It's either an Easter Basket with or without the eggs. Clever Cookie has given its valued customers the opportunity to surprise their loved ones with something totally different. These Cookie baskets are an extremely intelligent and creative thought, and they serve as excellent gifts. Not only is the decoration and the designing extremely beautiful to look at, the taste that they harbor is wholesome and delicious. To top things off, the element of surprise that such a gift entails is something really heartwarming.
Imagine yourself giving your kids the Best Easter 2013 Gift Basket s, loaded with cute little cookie bunnies and eggs. Your kids are sure going to remember this for a long time. The array that the company has offered this year includes exquisite gourmet baskets, cookie arrangements and even a cookie platter! The customers have a lot to choose from, all with a very low price tag.
Also, to ensure that the fun is at its highest, just by visiting the company's Facebook page, everyone is automatically entitled to a chance to win free cookies!
For over 20 years, Clever Cookie has helped customers across the country find a unique way to enjoy special occasions and gift-giving of all sorts with their delicious and intricately designed cookies. Having been featured in numerous magazines and TV shows, including the Today Show and Food Network, Clever Cookie continues to expand its line of cookie creations, which includes sugar free cookies, Kosher cookies, giant cookies, and cookies that feature child favorites such as Dora the Explorer and SpongeBob SquarePants.
To visit Clever Cookie's website, click http://www.CleverCookie.com. For the Facebook page, visit https://www.facebook.com/pages/Clever-Cookie/472426086112131
About Clever Cookie:
Clever Cookie was founded in 1991 by sibling entrepreneurial spirits Lisa and David, who determined that cookies should be more than sweet treats—but creative confections that delight cookie-lovers of all ages! The company has been showcased numerous times on both print and electronic media and continues to gain popularity with an ever increasing clientele.
Contact:
Howard Saffeir
http://www.clevercookie.com/
info(at)clevercookie(dot)com
1-800-237-8443