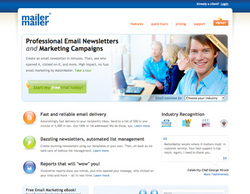 In designing our site, we envisioned a place where customers would be connected with the easiest tools and most accurate information to create successful email campaigns
Rockville, MD (PRWEB) January 19, 2009
MailerMailer was recognized as the Best Email Website in the Web Marketing Association's 12th annual WebAward competition. This international awards program recognizes excellence and outstanding achievement in web development.
Expert judges from various disciplines all around the world named MailerMailer as the Best of Industry email website based on the following criteria: design, ease of use, copywriting, interactivity, use of technology, innovation and content. MailerMailer was one of the more than 2,400 sites from 45 countries reviewed in the 96 industry categories during this year's competition.
Featuring numerous navigation changes that resulted from in-depth client testing, MailerMailer's winning site contains in-depth charts and graphs with live message statistics. "In designing our site, we envisioned a place where customers would be connected with the easiest tools and most accurate information to create successful email campaigns," commented CEO Raj Khera. "Leveraging information from our bi-annual email marketing metrics report, along with their comprehensive email statistics, clients can gain remarkable insight to test and fine tune the effectiveness of their email marketing."
The MailerMailer website also includes a wealth of free email marketing resources, including their email marketing metrics report, email marketing eBook, helpful articles and tutorial videos to assist clients in getting started with their campaigns. Marketers can take advantage of these tools and resources and create a free trial email marketing account.
"Each year the WebAwards receives amazing entries from around the world that show impressive creativity and functionality," said William Rice, President of the Web Marketing Association. "It is these sites that continue to get recognized for their excellence in website development. The WebAwards has always been a great way for Internet professionals to showcase their work and gain marketing opportunities for web development that sets the standard for the entire industry."
About MailerMailer Email Marketing
MailerMailer is a leading do-it-yourself email list management provider. Equipped with the latest email marketing technology, such as zip code radius targeting, image hosting and the fetch HTML from website feature, MailerMailer allows easy creation of professional email newsletters and campaigns. MailerMailer is part of a series of sites run by Khera Communications, which includes discussion group management tool, DiscussThis, and small business resource site, MoreBusiness.com. A free trial of this email marketing service is available at http://www.mailermailer.com.
About the Web Marketing Association
The Web Marketing Association is working to create a high standard of excellence for website development and marketing on the Internet. Staffed by volunteers, it is made up of Internet marketing, advertising, PR and design professionals who share an interest in improving the quality of website development and marketing on the Internet. Since 1997, the Web Marketing Association's annual WebAward Competition has been helping interactive professionals promote themselves, their companies, and their best work to the outside world. Now in its 12th year, the WebAward Competition has become the premier award event for Web developers and marketers worldwide.
###