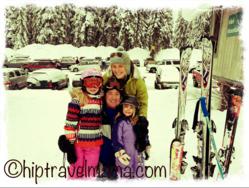 Resorts are making significant investments in family programming and facilities to ensure they will continue to attract both independent families and multi-generational groups.
San Francisco, California (PRWEB) January 10, 2013
It's never been easier to plan that family ski vacation. Ski resorts around the country are busy adding infrastructure and services in 2013 to cater to all ages and interests, including family ski clinics, extensive terrain parks, adventure trails through the trees, and off-mountain activities.
"With all the new technology and trends behind winter sports these days, it's become more complicated to please families with an increasingly divergent set of needs," says Amie O'Shaughnessy, the managing editor of Ciao Bambino. "As a result, resorts are making significant investments in family programming and facilities to ensure they will continue to attract both independent families and multi-generational groups."
In addition, family travel experts are partnering with leading brands in the ski industry to provide families with essential information and access to amenities like the popular online Back to Ski Week campaign in October 2012. "Our goal was to get families excited, informed, and mountain ready for the upcoming ski season," says Mara Gorman, publisher of The Mother of all Trips and leader of the social media and blogging campaign. "Dozens of bloggers published posts offering tips, advice, and recommendations for the best family-friendly ski destinations."
Family travel experts reveal their favorite 13 North American ski resorts for families in 2013:
Laidback luxury for all ages at Northstar in Tahoe
Families feel right at home at Northstar where luxury slopeside condominiums surround a village of stylish boutiques, cafés, specialty restaurants, and a year-round skating rink with fire pits. Tired of burgers? Head for the new on-mountain Zephyr Lodge, where artisan pizzas, a Napa Salad Bar, and a design-your-own Asian Bowl counter round out the menu of more traditional selections. The mountain itself offers beginners' programs like the Burton Snowboard Academy and Burton Riglet Park, while more advanced skiers and riders can virtually compete against racing great Lindsey Vonn with the wildly popular ski and snowboard app, EpicMix. Recommended by Jamie Pearson of TravelSavvyMom.com.
Smuggler's Notch is a great Vermont skiing destination for families
Smuggler's Notch Resort is tops on the East Coast for an all-around fun family New England ski vacation. The resort has varied terrain on three mountains including an extensive area full of easy, well-groomed trails and kid-friendly features like small jumps and tunnels. Instructors at the award-winning ski school are nothing short of inspiring. Stay slopeside in one of the fully outfitted condos and enjoy amenities like indoor pools and the FunZone, an enormous indoor play area. Other non-skiing activities include ice skating, tube sledding, and a year-round zip line course. New for 2012-13 at Smuggs is the all-day snowboarding camp for 3- to 5-year-olds in the Burton Riglet Park. Recommended by Mara Gorman of TheMotherofAllTrips.com.
Okemo Resort offers loads of winter fun – on and off the slopes
Families choose Okemo Mountain Resort for winter fun that includes not only skiing and riding, but also Nordic skiing, snowshoeing, and ice-skating. Off mountain they can enjoy activities like slopeside snow tubing, zip lining, playing in the BIGLOO at the snow fun playground or taking a snow cat groomer ride. Thrill-seekers will love the Timber Ripper, a combo alpine slide/roller-coaster! Plus, new for winter 2012/13 they've added a second Waffle Cabin at the Jackson Gore Base area ‑ more gooey goodness for everyone. Recommended by Dana Freeman of FindandGoSeek.net.
Big Sky Resorts' legendary base camp offers après ski for kids
Once situated in the cozy village environment at Big Sky Resort, families won't ever want to leave (unless it's for a day trip to snowshoe or snowmobile in adjacent Yellowstone National Park). For families lodging at Summit at Big Sky, kids can swim in the 100-person outdoor hot tub while parents prepare dinner in en-suite kitchens. Best of all, Big Sky's Base Camp - legendary in summer or winter - houses après ski activities for kids who just can't seem to burn off enough energy. Teens can zip line, and younger kids can bounce on a bungee trampoline until bedtime. Recommended by Amy Whitley of PitStopsforKids.com.
Kids under 12 ski free at Mt. Bachelor in Oregon
When considering where to take kids skiing, don't overlook the high desert of Central Oregon. At Mt. Bachelor families with expert skiers and snowboarders find plenty of steep terrain to keep them occupied, and beginners are in great hands with the Ski or Ride in 5 program, voted best in the nation for beginning skiers. While it's true there's no onsite lodging at Mt. Bachelor, families have the opportunity to save money by renting a full house at nearby Sunriver Resort and seeing all Central Oregon has to offer. New for 2012-13 at Mt. Bachelor: kids 12 and under ski free with paid adult 3-out-of-5 or greater tickets. Recommended by Amy Whitley of PitStopsforKids.com.
Enjoy the powder and Olympic memories in Utah
For many skiers, nothing beats the soft abundant snow of Utah. Park City is a great ski destination due not to its location, but also its history - hello, site of the 2002 Winter Olympics! At Utah Olympic Park, families can check out the luge and Nordic Skiing tracks, and if kids are old enough, even bobsled where the Olympians did. Park City Mountain Resorts' ski slopes service the full array of ability levels and kind, helpful instructors are available even during peak season. However, when kids (and their parents!) get tired of skiing, the snow tubing at Gorgoza Park is riotously good fun. Recommended by Jennifer Miner of TheVacationGals.com.
All family pampering and luxury lodging at Deer Valley Resort
Deer Valley Resort is known as the "posh" resort in Utah and caters to upscale skiers. The big plus for families is a massive array of ski-in/ski-out luxury homes, condos, and hotels, in addition to excellent resort dining options. Deer Valley takes skier pampering to a new level with Mountain Hosts at every turn to help with any situation. The 2012-13 Family Value Package includes discounted lodging, lift tickets, and rentals. Recommended by Amie O'Shaughnessy of CiaoBambino.com.
Skiing for all ages and levels at Jiminy Peak Mountain Resort, just three hours from New York City
Located in the Berkshires, Jiminy Peak Mountain Resort is an ideal resort for skiers of all ages and levels. They offer excellent children's programs and adults and children can ski or snowboard on bunny trails, moguls or black-diamond trails during the day or on well-lit trails at night. The resort features affordable slopeside lodging a village center with a variety of restaurants and shops, onsite childcare and discounted lift tickets and ski rentals. New for 2012-13 at Jiminy is nearly $300,000 in snowmaking improvements, a new nighttime skiing trail and an enhanced program for 1st time skiers and riders, ages 8 and up, called Guaranteed Easy Turns. Recommended by Holly Rosen Fink of TheCultureMom.com.
Ski Magazine's 2012 number-one ski resort in North America
Ranked the number one ski resort in North America by the readers of Ski Magazine in 2012, Whistler Blackcomb Resort offers prime skiing and instruction for families. The ski school gets all kids up on the mountain, even those who've never skied before, and after hours there's a bustling village filled with family-friendly restaurants to explore. For younger kids, indoor and outdoor playgrounds, a kids' camp, and a cozy library round out the mix. Teens will love to spend off-hours at the two onsite Nintendo Gaming Lounges. Recommended by Debbie Dubrow of DeliciousBaby.com.
One ticket: Four Colorado mountains
Aspen/Snowmass ski resort is fab for families because they can ski or board four distinctly different mountains with one lift ticket. Adventurous teens might head to the steep powder at Aspen Highlands' Highland Bowl, 10-year-old snowboarders will love the terrain parks at Snowmass, while preschoolers will appreciate gentle Panda Hill at Buttermilk. If the entire family is experienced on the slopes, enjoy the convenience of in-town, intermediate Aspen Mountain ("Ajax" to locals). New for 2012-13 at Aspen/Snowmass is the Snowmass' Restaurant at Elk Camp healthy on-mountain dining, plus family-friendly "Ullr Nights" on Fridays through March, with live music, sledding, s'mores, hot chocolate and more. Recommended by Kara Williams of TheVacationGals.com.
Kids ski free just two hours west of Denver
Keystone Resort, an easy shuttle ride from the Denver International Airport, caters to families with an incredible array of condominium lodging options; many units are in River Run Village, steps away from the gondola. A new Burton Riglet park and tiny Burton snowboard rentals are offered for kids as young as three years old. Still more fun: a steep tubing hill at Adventure Point, two outdoor ice skating rinks, a giant snow fort and Saturday night fireworks for all. New for 2012-13: kids 12 and under ski free if families book Keystone Resort lodging (condo or hotel room) for a minimum of just two nights, with no blackout dates. Recommended by Kara Williams of TheVacationGals.com.
Kids enjoy their own stunning ski lodge in Sun Valley, Idaho
Sun Valley Resort has an incredibly high guest return rate. For good reason. Because of the lack of crowds and the plethora of high-speed quads, many people get more vertical feet skiing at Sun Valley than at any other ski area in North America, in addition to accessing exceptional facilities. Kids enjoy their own stunning lodge at Dollar Mountain with top notch ski school programming from pre-school aged kids to teens. The historic Sun Valley Lodge offers families an array of rooms, condos, and rental homes. The resort is adding an extensive terrain park for training and fun in early 2013. Recommended by Amie O'Shaughnessy of CiaoBambino.com.
Northwest winter affordable luxury for families at Suncadia Resort
Located less than 90 min east of Seattle, Suncadia Resort offers the ultimate affordable luxury mountain resort experience for families looking to slow down and explore a wide variety of winter sports, ample family time and luxurious accommodations and amenities. Downhill skiing at Snoqualmie Summit and Alpental is a short 30-minute drive, or hit the miles of groomed cross-country ski trails, snowshoe, go downhill tubing, sip hot chocolate by the outdoor ice skating rink, or warm up in the heated indoor pool, hot tub and indoor water slides. Suncadia offers a wide selection of fine-dining options and accommodations, including luxury one-bedroom suites at the Lodge, and rental homes for families of all sizes. Suncadia Resort is a perfect quick ski escape from Seattle for active, winter family fun. Recommended by Anne Taylor Hartzell of HipTravelMama.com.