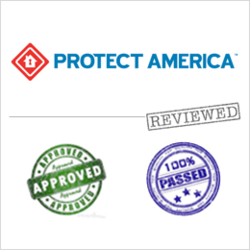 Protect America's cellular solutions are pretty impressive and are a solid recommendation by our home security system experts.
Seattle, WA (PRWEB) March 03, 2013
SecuritySystemReviews.com has finally announced the final line up of its Best Cellular Security Systems in the country and included in the list is Protect America. Among all the companies offering security service, Protect America was hailed as one of the best in cellular monitoring ranking in at second place. The company beat out other security systems vying for a spot on the 2013 list. The annual list was published following the growing number of security systems in the market.
Cellular monitoring has grown a wide following over recent years because of the special home security it provides. This home security system works independently without the need of a telephone line or an Internet connection. Unlike other security services, cellular monitoring systems have built-in cellular channels that utilize wireless signals to send and receive signals to and from the monitoring station. This allows the security system to contact the monitoring station in case of emergency, even if the phone lines are cut and the Internet is down. Because of this great reliability, it considered as one of the top home security system options in the market.
With the great demand for this security service, the best home security systems in the market have started offering cellular monitoring to consumers. Among all the security system companies that offer this service, according to SecuritySystemReviews, Protect America is one of the best. The site's Protect America review notes that the company offers the most affordable systems, from zero equipment costs to low monthly fees.
Offering great affordability, the company features a selection of packages for its clients to choose from, each one catering to their needs and budget. Setting itself apart from other system providers, Protect America offers free equipment packages with for its cellular monitoring service. Also, its monthly monitoring fees are among the lowest in the country, offering ultimate security for a lot less.
Moreover, even with its low monthly fees and free equipment, Protect America still offers state-of-art equipment. It makes use of General Electric (GE) technology, including GE's Simon XT control panel and Wireless Security Sensors, making sure that the systems will be durable and dependable. It also offers premium pan/ tilt security cameras, GPS vehicle tracking devices and X10 home automation systems.
"Easy to install, staff very friendly and patient with me. Thanks," Ron, Philadelphia, PA.
"I want to thank you for helping me to feel safe; whether I am in my home or away, I know someone is watching," Steven, Toledo, OH.
To learn more about Protect America and the other cellular monitoring systems, visit SecuritySystemReviews.com.
About SecuritySystemReviews.com
Headed by a team of experts with years of professional experience in the industry, SecuritySystemReviews.com offers the latest news and reports on the systems, services being offered in the market. It publishes unbiased reviews based on extensive research to help consumers be acquainted with the latest in the home security system industry. The site's aim is to help consumers in choosing the best security systems for their homes and businesses.
# # #