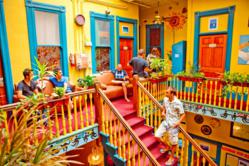 Having guests reward us with the ratings that led to this award lets us know we're doing something right. Now we'll party a little, recover, and then set about figuring out how to create an even better guest experience next year.
San Francisco, California (PRWEB) February 27, 2013
USA Hostels Inc, was announced as Best Hostel Chain Worldwide for 2013 at Hostelworld.com's 11th annual HOSCAR awards in Dublin, Ireland. This is a first time win for USA Hostels in this prestigious category in the hostelling industry. The independent California chain, with locations in San Diego, Hollywood and San Francisco, also nabbed awards for Most Popular Hostel for their San Francisco and Los Angeles operations, as well as #7 Large Hostel Worldwide for the San Francisco location.
Hostelworld.com's annual HOSCAR awards recognize the best hostels worldwide as rated by over 1 million customers. Customers review hostels on the criteria of character, security, location, staff, atmosphere, and cleanliness. Approximately 400 hostels in the United States and 27,000 properties worldwide are listed on Hostelworld.com, which is the premier third-party provider for hostel reservations in the world.
"We are overwhelmed to receive this top award in our industry," said David Reuter, founder and president of USA Hostels. "Being a smaller, independent group, we never imagined we could beat out the larger, corporately-financed hostel chains. This is a testimony to the dedication of all our staff, from housekeepers to maintenance to receptionists and managers who tireless work to provide our guests with the USA Hostels Experience of a fun, but professional environment, quality accommodations and a genuine desire to see our guests have a great time in our cities and our country. It's rewarding that our efforts to provide excellent customer service are reflected in guest reviews and this tremendous honor of being named one of the best hostels worldwide."
"The hostel business has rapidly matured in the last few years and today's customers are demanding a level of service and amenities similar to that of boutique hotels, but at a budget price. It's a challenge to meet those expectations, but it's through customer feedback that we evolve and provide new and improved amenities that meet guests' changing desires." He continued, "Our number 1 ranking is due directly to listening and responding to what our customers say they want."
In 2012 USA Hostels revised their breakfast offerings as a result of their guests' wish for more breakfast choices. An expanded free breakfast was introduced and includes fresh fruit, juice, pancakes, oatmeal, a variety of breads and coffee/tea. USA Hostels upgraded its free wireless as travelers with smart phones are growing rapidly and started renovations at its Hollywood and San Francisco locations to freshen décor and upgrade facilities to keep pace with customer expectations.
About USA Hostels
Known for high-quality budget accommodations in Hollywood, San Diego, and San Francisco, USA Hostels operates the best hostels worldwide. Founded in San Diego in 1994, USA Hostels offers a choice of shared dormitory rooms or private rooms to independent travelers worldwide. Each hostel provides daily free activities, walking tours, discounted tickets to area attractions, as well as free breakfast and free wireless internet. For more information visit http://www.usahostels.com.
##