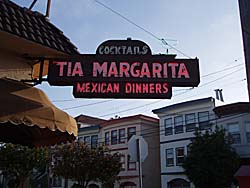 "Tia Margarita has been a huge part of my life as have our customers and I am proud to celebrate such a milestone. You should get in here and try our margaritas," said Jennifer Corwin of Tia Margarita.
San Francisco, CA (PRWEB) March 28, 2013
Tia Margarita Mexican Restaurant is celebrating 50 years in business. For their golden anniversary, the restaurant will be holding a 1963 Costume Party; tickets for which sold out in four days. Tia Margarita is excited to celebrate with their neighborhood and valued guests in the attire of their founding year. Guests will enjoy delicious food and cocktails while wearing their pillbox hats, pencil skirts, narrow ties, and colored trousers.
The family owned restaurant has been a stronghold in the Bay area and a fixture in their neighborhood for five decades. The same family has owned the restaurant since its opening and continues to provide its guests with authentic, classic, northern Mexican cuisine from its original location on 19th Ave.
Steve Zimmerman, of Restaurant Realty Company in San Francisco, has said it is estimated that roughly ninety percent of independently owned restaurants in the San Francisco area go out of business. Tia Margarita's staying power is attributed to their friendly atmosphere, dedicated staff and above all, delicious food. They are joining the ranks of other favorites such as Cliff House and House of Prime Rib, both San Francisco mainstays.
Tia Margarita welcomes new customers as most become regulars, returning for everything from delicious homemade salsa and rellenos, to tamales and dynamite margaritas. The staff are invested in customer satisfaction, and are happy to see guests coming back again and again. With an impressively low turnover rate, customers are also likely to be greeted and served by the same friendly faces.
The Costume Party will be held on Saturday, April 20. There will be prizes and raffles, a tequila tasting, live music and even a Best Costume Prize. The party features an open bar at the original horseshoe bar, as well as delicacies being served throughout the evening. Tia Margarita hopes to see their friends decked out in their best outfits from 1963 for a night of food, drinks and fun.
About the Company:
Tia Margarita is a family owned Mexican restaurant in San Francisco that serves the best margarita in the city. Located in the Richmond District, the "Tia" has been a popular neighborhood haunt for over 50 years, keeping our regulars satisfied with generous portions of Mexican food made from quality ingredients and welcoming newcomers into our friendly, bustling atmosphere. "Like" Tia Margarita on Facebook and see the website for full menu and additional information http://www.tiamargarita-sf.com.