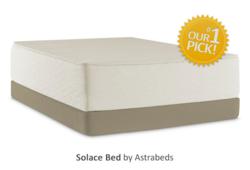 Tempe, AZ (PRWEB) January 16, 2013
BestMattress-Brand.org, a blog devoted to coverage of mattress brands, recently released a comparison of five top luxury mattress brands. The assessment provides consumers an overview of the brands and product lines, as well as their relative value.
Every year, we learn more about the importance of sleep and its role in our health and daily performance. With this knowledge comes an inevitable search for products and solutions that improve sleep. Though, as most savvy shoppers know, not all brands charging premium prices or making luxury claims live up to expectations.
With specialty mattresses gaining popularity for their promise of better sleep, luxury mattress makers continue expanding their market reach. Best Mattress Brand selected five manufacturers across the spectrum of luxury bed types including: natural latex mattresses from Astrabeds and Royal Pedic; innerspring mattresses from Duxiana and Hastens; and memory foam mattresses from Tempurpedic.
The primary factors considered in the comparison included value, defined as price versus benefits, reported comfort, warranty, and longevity. Despite price tags in the thousands, the article found several surprising shortcomings including trends like sagging, poor warranties, and comfort complaints. Overall, the blog selected the most reasonably priced option, Astrabeds' latex mattresses, as its top choice based on reviews and value.
This post is the latest in a series comparing top industry brands, with the goal of providing balanced resources for consumer research. Other recent topics include coverage of top adjustable bed brands and brands to watch in 2013, with upcoming posts slated to cover pillows, chemicals in mattresses, and in depth assessments of popular brands.
BestMattress-Brand.org is a mattress research blog designed to provide information to mattress shoppers. With a mission to make bed shopping easier, editors provide unbiased assessments of manufacturer claims and customer satisfaction. The blog also features industry news and brand reviews based on first and third party research, and offers weekly newsletters for subscribers.