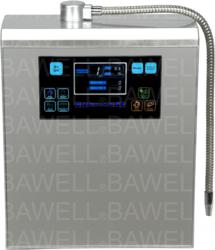 Bawell water ionizer machines are covered by a Forever Lifetime Warranty, plus a 60 Day 100% Money back Return Policy, because customer satisfaction is top priority at Bawell
Boca Raton, FL (PRWEB) March 20, 2013
Bawell announces an Easter Sale offering the best priced water ionizer machines that produce both alkaline and acidic water.
Bawell has always been committed to developing products that are affordable, which is why Bawell is announcing an Easter Sale on their water purification equipment. Bawell's Easter Sale will provide consumers with the best priced water ionizer machines available.
In a recently published report, Bawell states "when water is ionized, it is more effective in rehydrating the body. Ionized water also provides valuable ionized organic liquid vitamins and minerals that retard the process of aging, helping with many common medical problems and even aiding in the prevention of certain types of cancer."
The Bawell website explains that they design alkaline water ionizers with one thing in mind -- health. Bawell has published numerous articles, reports, and studies showing ionized water is healthy water that provides incredible short-term and long-term health benefits along with great taste.
Bawell models #1195 #1775 and #2195 displays the PH and ORP of the water, along with other information, like the filter life, and much more. When connecting the machine to a water source, the Electrolyte and Premier models are connected directly to a faucet. The Platinum and Fountain models offer the availability to connect either to the faucet, or to the water line below the sink, for a more permanent connection.
With the goal of providing people access to a constant supply of water that has the proper water alkalinity, Bawell decided to hold an Easter Sale on all their water ionizing machines. The Bawell water ionizer machines are covered by a Forever Lifetime Warranty, plus a 60 Day 100% Money back Return Policy, because customer satisfaction is top priority at Bawell.
The Bawell Alkaline Water Ionizers are constructed from the finest components ensuring a lifespan greater than 10 years on their machines. Because of this high quality, the Bawell Platinum model #2195 and the Bawell Fountain model #1775 water ionizers are covered forever in full, with parts and labor included free of charge. Bawell calls this their "Forever Lifetime Warranty" which covers the entire machine parts and labor included, with no time limit or expiration date!
Bawell challenges people to invest in their health, and find out exactly why the best priced water ionizer machines are Bawell water ionizers. Visit the Bawell Health Water website to get the best deals on alkaline water ionizers this Easter, with Bawell's 2013 Easter Sale.