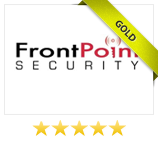 Our home security experts were impressed again as FrontPoint Security won over the judges for 2013. Their solutions and service are a favorite among our experts and consumers own the service.
Atlanta, GA (PRWEB) March 05, 2013
Home security system review website, SecuritySystemReviews.com, has revealed its list of the Best Home Security Systems for this year. Among the companies shortlisted for the coveted list, FrontPoint Security System has received the top honors—being ranked as the number one company for 2013. According to site, FrontPoint offers the best technology and value than all other security system companies in the market right now.
Home security systems have been a necessity in each home for the past recent years; this is mainly because of the growing rate of neighborhood-related crimes. With the strong demand for security systems at home, more and more companies have entered the market offering different services and technology. However, amidst the saturated market, only a few companies have proven to deliver dependable service. SecuritySystemReviews.com's list aims to help consumers find the best home security system to employ for their homes.
The review website's list was completed by its team of experts after extensive research and discussions. The team secretly shops for the security systems, reviews them and collectively votes for the companies and services that should make the site's best list. This process ensures that the review site only offers consumers an unbiased, comprehensive and accurate review of the best home safety companies.
SecuritySystemReviews awarded FrontPoint Security the top place in its Best Home Security System for its simplicity of use and affordability. Receiving five out of five stars in the site's review, FrontPoint offers the latest in wireless home security equipment employing General Electric (GE) Wireless technology. Proven to be durable and dependable, the security system uses GE Simon XT for its Control Panel and GE Wireless devices for all its door and motion sensors. The panel is also integrated with Z-Wave, for all home automaton options. This allows homeowners to use the panel for light, door lock and thermostat control.
According to the review site, FrontPoint also offers one of the easiest system set-ups. The company allows consumers to consult with its experts to know which service will fit their requirements the best. A pre-programed security system will then be shipped to the client's doorstep, free of charge. A simple set-up guide accompanies each package, allowing users to set their systems up with ease. In less than 60 minutes, the systems are up and working. The process is ultimately hassle free.
Another feature worth noting is the company's pricing packages. FrontPoint offers easy to understand pricing options, allowing consumers to easily choose which one will best fit their needs and budget. It also offers one of the most affordable price ranges considering the caliber of the system and service they offer. With great pricing, technology and service, FrontPoint truly deserves SecuritySystemReviews.com's Best Home Security System award for 2013.
To learn more about FrontPoint Security's services and other companies who made it to the list, visit securitysystemreviews.com.
About SecuritySystemReviews.com
SecuritySystemReviews.com is a site dedicated to providing consumers comprehensive reviews on the latest technology, services and companies in the home security systems industry. The website is composed of a team of experts with years of professional experience that offer exclusive content and performance analysis on different wireless, cellular, and DIY home security packages. The site's main goal is to help consumers make the right decision in choosing which home security system to employ.