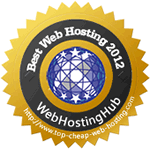 I had a great experience with the service received from HUB. Unbelieveable it's just $3.95 for a month. - reviewed by Ellispc, a real customer from Athens, Ohio, US
San Francisco, CA (PRWEB) April 12, 2012
The leading web hosting review and rating site Top-Cheap-Web-Hosting.com (TCWH) awards Web Hosting Hub as the best web hosting for personal and small businesses for 2012 rated from the web hosting features, performance, reliability, customer support, eco-friendship, and price.
Web Hosting Hub is designed for individual and small business, the sister brand of InMotion hosting, which has more than 10 years of business hosting experience. Web Hosting Hub is not a famous web hosting brand before 2010, but now it's topping the list of almost all major web hosting review sites, including CNET, BBB, WebHostingClue, HostUCan, etc.
1. Rich Features
Web Hosting Hub offers a single rich-featured shared web hosting plan at affordable price, including 1 free domain name; unlimited hosting websites, disk space and monthly bandwidth; 90 days full money back guarantee; $75 Google AdWords credit; $75 Bing/Yahoo Search credit etc. They support PHP5.2.17/5.3.10, MySQL5, Python, Perl, and provide a smart application installer for clients to 1-Click install website in minutes, including WordPress, Joomla, Drupal, SMF, etc.
2. High Performance
Web Hosting Hub provides great speed and reliability due to their network structure and the way they manage their servers. The network was specifically built to be expandable for capacity and for throughput. The all Gigabit server farm is connected to the Internet through 4 separate providers with an on-demand capacity exceeding 7,500 MBits. They utilize BGP4 Smart Routing and can switch instantly and transparently away from any of the network providers that are experiencing latency or downtime.
3. Responsive Support
Web Hosting Hub provides 24/7 US-based customer support via toll-free telephone, live chat, email and ticket system. The first response of their support is averagely under 2 minutes via telephone and live chat. Web Hosting Hub not only answers the questions that are asked, but also looks at the needs of their clients. This allows them to provide advice and assistance to the clients better, beyond other web hosts. Web Hosting Hub is very much proactive, versus being reactive like most other web hosting companies.
4. Eco-friendly
Web Hosting Hub is an eco-friendly company. By the fact of web hosting energy consumption that more than half of the energy is wasted on air conditioning and cooling for facilities. Web Hosting Hub reduces the energy consumption by cutting the cooling cost for the data centers, using the advanced green outside air cooling technology. In practice, Web Hosting Hub reduced the emitting carbon by 2,000 tons in 2011. Web Hosting Hub also partners with "Trees For The Future", a non-profitable organization, to sponsor for over 5,000 trees planting in the developing countries yearly.
The web hosting plan from Web Hosting Hub is pricing at $6.95/mo regularly, but now all readers can claim 44% discount for $3.95/mo by following this Web Hosting Hub promotional link.
Visit http://www.top-cheap-web-hosting.com/web-hosting-guide/best-web-hosting-2012 for more information about the Web Hosting Hub award.
About Top-Cheap-Web-Hosting.com
Top-Cheap-Web-Hosting.com (TCWH) is a leading web hosting review & rating site, designed to help people find the best web hosting deal at a reasonable price, based on their true web hosting experience and the real customer voice. Visit Top-Cheap-Web-Hosting.com to learn more information about web hosting reviews, awards, and discount.