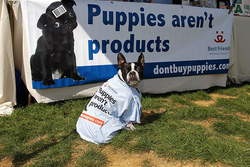 We are using the tools of social networking so people across the country can help share this video with their friends and families. We want to remind everyone that fabulous dogs and puppies are in shelters and rescue groups ready to go home today for a modest adoption fee...and that about 25 percent of those dogs are purebred for those who are absolutely determined to have a particular breed
Los Angeles, California (PRWEB) December 12, 2008
While the usual chipper holiday songs play in the background, purebred little dogs with scanner stickers on their foreheads move down a store's conveyor belt along with other items being purchased in a store.
This tongue-in-cheek PSA is the latest volley fired in Best Friends Animal Society's Puppies Aren't Products campaign to end the exploitation of purebred dogs by the pet store business -- a business which is in turn fueled by consumer demand for trendy dogs. In the "don't buy Puppies Holiday PSA Best Friends Animal Society drives home the point of why puppies aren't products in a new national viral PSA campaign.
The PSA comes the heels of a successful campaign which terminated the lease of Pet Love, a store that sells purebred puppies and dogs in the prestigious Beverly Center, as reported by CBS2/KCAL9 in Los Angeles.
That campaign played an instrumental role in persuading the Beverly Center to oust Pet Love which has been operating in this high end, celebrity-filled mall in the heart of Los Angeles for over 15 years. The Beverly Center will terminate Pet Love's lease at the end of January 2009. It's estimated the store has sold thousands of unaltered pure breed dogs, many of them unhealthy. Unfortunately, it is estimated many of those dogs ended up in already overburdened local animal shelters. See the Puppies Aren't Products news release on PRWeb for the full story.
Now Best Friends offers the "Don't Buy Puppies" Holiday PSA to urge people to not support an industry built on the misery of countless dogs and puppies trapped in puppy mills.
"We are using the tools of social networking so people across the country can help share this video with their friends and families. We want to remind everyone that fabulous dogs and puppies are in shelters and rescue groups ready to go home today for a modest adoption fee...and that about 25 percent of those dogs are purebred for those who are absolutely determined to have a particular breed," said Julie Castle, director of Best Friends Community Programs.
The "Don't Buy Puppies" Holiday PSA can be shared from:
Best Friends MySpace: http://profile.myspace.com/index.cfm?fuseaction=user.viewProfile&friendID=89275949
Best Friends Facebook: http://www.facebook.com/pages/Best-Friends-Animal-Society/25372476424
Pupcast: http://pupcast.org/?p=109
YouTube: http://www.youtube.com/watch?v=UT745n1vEqk&feature=channel_page
About Best Friends Animal Society
Best Friends works globally with animal shelters and rescue groups to bring about a time when there will be no more homeless pets. Best Friends advances initiatives nationwide that promote community approaches to making the world a better place through kindness to animals, which includes adoption, spay-neuter, and humane education programs. Located on 3,700 acres in Kanab, Utah, Best Friends Animal Society operates the country's largest sanctuary for homeless animals and is home, on any given day, to about 2,000 dogs, cats, horses, rabbits, birds, and other animals. Best Friends is the home of DogTown, a National Geographic Channel television series that chronicles the society's ongoing work with dogs.
Best Friends Animal Society: A better world through kindness to animals
# # #