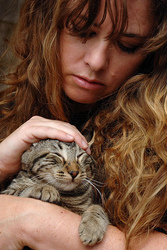 We are seeing the necessity now more than ever of all of us working together to solve the homeless pets problem
(Vocus) March 26, 2009
Best Friends Animal Society offers networking, resources; urges local involvement to address 'foreclosure pets' issue. The way to battle the economic forces which are driving up the number of homeless pets really may be in your own backyard, an expert at one of the nation's largest animal welfare organizations says.
Since the mid 1980's, the number of homeless pets euthanized annually in this country dropped from some 17 million to about 4 million, but the current increase in foreclosures through which people are forced to relinquish their pets to shelters, combined with drops in donations to animal rescue groups threaten to drive the number of homeless pets higher.
The statistics vary across the country, but the story is the same. Every day the national help desk at Best Friends Animal Society receives hundreds of urgent requests from rescue groups struggling to stay open, people losing their jobs and no longer able to afford their pets, shelters that cannot keep up with flow of animals into their shelters, and reports of cats and dogs left behind to fend for themselves after a foreclosure.
Liz Finch, manager of Best Friends' Community Assistance Department said, "We started the No More Homeless Pets® program nearly two decades ago to share resources and teach people how they could be part of the solution. We realized that our sanctuary in a remote part of southern Utah could not possibly take in the millions of animals who need help."
"We are seeing the necessity now more than ever of all of us working together to solve the homeless pets problem," Finch said. "Here is what we know at Best Friends: the people in this country have an amazing ability to reach out and help. How many times have we seen people turn out in force after a hurricane or tornado?"
"Yes, these are especially difficult times, but Best Friends knows that solving the homeless pets issue is a miracle of many small choices," Finch continued.
Finch outlined six simple steps people can take to help homeless pets in their community. "None of us can solve this alone. Do one small thing and get your friends to do one small thing, too. It's amazing how fast these small sacrifices add up."
6 simple steps to help homeless pets:
1. Make a small donation to your local rescue group or shelter and get 5 of your friends to do the same. Small amounts add up fast.
2. Volunteer at your local shelter or rescue group.
3. Foster a homeless pet and promote it for adoption.
4. Spay/neuter your pets. If you can afford to do so, donate the cost of a spay/neuter for a neighbor who cannot pay to have their pet altered.
5. If you can, consider adopting one more dog or one more cat.
6. Donate to the local pet food bank (in many communities there are organizations dedicated to distributing pet food and some traditional food banks also accommodate pet owners).
To find out more about how you can help on a local level and get involved with the fastest growing online community of people working to help homeless pets, visit the Best Friends Network at http://network.bestfriends.org . Take action by using the online resources: click on the resources tab in the No More Homeless Pets® community: http://network.bestfriends.org/nmhp .
Contacts:
Barbara Williamson (435) 689-0200 (cell) (or) barbara (at) bestfriends (dot) org
John Polis (435) 644-2001, ext. 4858 or johnp (at) bestfriends (dot) org
About Best Friends Animal Society:
Celebrating its 25th anniversary in 2009, Best Friends Animal Society advances nationwide animal welfare initiatives by working with shelter and rescue groups around the country. Best Friends Animal Sanctuary in southwestern Utah is the nation's largest facility for abused, abandoned and special needs companion animals. On any given day the sanctuary is home to approximately 1,700 dogs, cats, horses, rabbits, birds, and other animals. The society publishes Best Friends magazine, the nation's largest general interest, pet-related magazine with approximately 300,000 subscribers. For more information on Best Friends Animal Society, visit: http://www.bestfriends.org/.
###