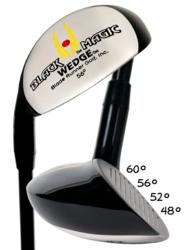 The Best Golf Wedges Available on the Market to Simplify Your Short Game
Nationwide (PRWEB) March 03, 2013
Blade Runner Golf carries a new design in wedges that are replacing the traditional golf irons for the short game for golfers worldwide. Recent reviews by amateurs and pros alike are raving about how much advantage there is to be had in Black Magic clubs.
Blade Runne Golf is seeking to corner the market on club innovation while continuously providing the most comfortable grip, easy swing, and complement of power and finesse with every club. The company states that its product line is comprised of the most sophisticated wedges and putters available to the golfing public, no matter the player's individual skill level.
"If you're looking for golf clubs for your short game, you ought to be looking at our product line and giving serious consideration to putting these clubs in your bag. People see me on the course and at the driving range. They observe the distance and control I have and ask what I've got in my hand. I tell them it's 'the best golf wedge known to man'. After a chuckle, they're always intrigued by my description. It really is nothing more than the truth. We have the best clubs you can buy. Our clubs only help to improve your game from start to finish," a company spokesperson confidently stated about the high quality and ease of use their clubs provide golfers of all skill levels.
The short game is the hobgoblin of the game of golf for many. It can literally ruin a player's game with just a few bad strokes. Blade Runner is addressing the necessity for a more superior product that has a very short learning curve and feels natural in the hand. Research and development have delivered on that need; the result is a quest to get the word out about the best golf wedge in the game.
"We know that the wedge is one of the least popular club choices for many players. They'd rather take their chances with an iron; try to strong-arm a putt, before resorting to using a wedge because most wedge shots require finesse over power. The complexity of the swing combined with the foreign feel of the traditional wedge puts some golfers into a precarious situation. We're going to change that with our hybrid design."
About
Blade Runner Golf, Inc. is a company that is very serious about the notion that a golfer's short game can make all the difference in his or her final score—and that players can take their short game to the next level if they only have the right club from which to choose. Black Magic's hybrid wedges Conforms to USGA Rules, but also helps golf enthusiasts find new precision and power as they make their way onto the putting green. Black Magic Wedge can be reached on the web at http://www.blackmagicwedge.com.
Contact:
Black Magic Wedge
2519 McMullen Booth Road
Suite 510-129
Clearwater, FL 33761
Toll Free Phone: 877-799-6099
sales(at)blackmagicwedge(dot)com