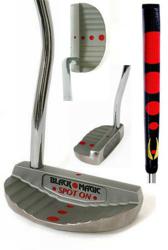 Experience The Confidence That A Black Magic Wedge Putter Will Provide To Your Game
Nationwide (PRWEB) March 19, 2013
Try their putter and experience the fusion between the control and the solid feeling you get with each putt.
The company's "Spot on Putter" combines balance, elegance, with a healthy dose of ergonomics and scientific research. Developed through painstaking experiments and testing, the Black Magic Spot on Putter nicely delivers on its promise to reduce the number of strokes needed to land the ball in the hole. With innovative design features, the company's putter is a great step in the advancement of assisting golfers with their short game.
The short game remains a difficult piece of the golfing puzzle and Blade Runner is doing its part to provide players with the best golf clubs possible for the short game. The Black Magic putter is giving players the confidence they need to line-up their putt and make them without anxiety which can sabotage the shot.
Black Magic putter is face balanced with an integrated alignment system that affords every golfer the tools to make sure their hands and eyes are consistently in the correct position when aligning the putt. The grip is nicely designed so that it allows players to easily see that their hands are on the grip the same way each time. Being consistent in your putting method is what makes great putters.
The club's unique design and its ease of use make it ideal, giving golfers what they so desperately need in this particular arena of the short game, the company claims. "Many players will try several different putters, long, short, you name it. They also try out different manufacturer's lines looking in vain for a putter that can actually help them make more putts. In the end, some players settle or just give up," the spokesperson added.
Black Magic clubs strives to be superior in every instance. Their putters are designed to be the one club that players can rely on to cap off what would be a great series of shots or to stop the hole from getting out of control.
About
Blade Runner Golf, Inc. is a company that is very serious about the notion that a golfer's short game can make all the difference in his or her final score—and that players can take their short game to the next level if they only have the right club from which to choose. Black Magic's hybrid wedges Conforms to USGA Rules, but also helps golf enthusiasts find new precision and power as they make their way onto the putting green. Black Magic Wedge can be reached on the web at http://www.blackmagicwedge.com.
Contact:
Black Magic Wedge
2519 McMullen Booth Rd
Suite 510-129
Clearwater, FL 33761
Toll Free Phone: 877-799-6099
sales(at)blackmagicwedge(dot)com