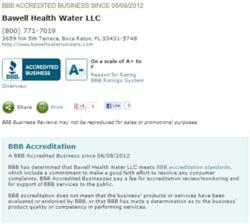 When researching the best water ionizer brands, many companies can be eliminated quickly by reviewing their BBB ratings, and investigating businesses like Bawell Health Water that have an A rating.
Boca Raton, FL (PRWEB) March 15, 2013
The Better Business Bureau ratings can help consumers when researching the best water ionizers, by providing information about A rated companies like Bawell Health Water. The Boca Raton, FL. based water purification company stands behind their products, which is why they consistently maintain their A rating with the BBB.
The Bawell Water Ionizers Platinum model 2195, and the Bawell Fountain model 1775 water ionizers are of such high quality, that Bawell offers "The Forever Lifetime Warranty" on these water purifying machines. The Bawell water website explains that "The Forever Lifetime Warranty" covers the entire machine parts and labor included with no time limit or expiration date. All the details about the Bawell "Forever Lifetime Warranty" can be found on the BawellWaterIonizers.com website.
A Bawell customer named Cindy says, "The Bawell machine has been ionizing this hard Phoenix, AZ. water for a year, and just now needs a new filter. Soaking fruits and vegetables in the alkalized water before putting them in the fridge, makes them last longer and taste better!"
The Bawell Health Water website explains their alkaline water ionizers were designed to incorporate cutting-edge technology that helps people take advantage of all the healthy benefits of ionized water.
Wikipedia lists many water purification options that include; distillation, Reverse/Osmosis, carbon filtration, ozonation, ionization, microfiltration, ultrafiltration, ultraviolet oxidation, or electrodialysis, among others. Bawell Health Water provides the water purification industry's best brand water ionizer, which works by using an electrolysis process that gives their water three distinct properties that are not found in tap or bottled water.
A higher pH is the first distinct property found in water that is ionized by a Bawell machine. Secondly, the Bawell's website reports that their purified water has the following distinct property described in the abstract (PMID: 9169001 by Nakano M, Li Y, and others) which states, "ionized water has an abundance of negatively charged hydroxyl ions called ORP (Oxidation Reduction Potential) which actively seek out and neutralize cancer causing positively charged free radicals."
The third distinct property that water ran through a Bawell water purifier has is explained in the medwire News article published by Philip Ford, titled Alkaline water Reduces Bone Resorption. The October 9, 2008 medwireNews article reports, "water that is put through this process is micro-clustered into groups of 4 to 6 H2O molecules per cluster instead of the 12 to 16 molecules per cluster that you would normally find in ordinary water. These smaller clusters lead to faster rehydration because the bodies cells find it easier to absorb and make use of these smaller sized water clusters through their cellular walls. Additionally minerals in the water also become ionized making them easier for your body to absorb."
Betsy Lou from Wrightwood, CA. comments, "After being introduced to the benefits of ionized water, and the good feelings it provides, owning a machine at home was the only alternative. During extensive online research to find the best water ionizer brand, the Bawell machine kept coming up in the search results. The Bawell Health Water BBB A rating, consumer reviews, affordability, plus the warranty, made it a no brainer. It is so easy to use, takes up very little space, and makes the best tasting water!"
Visit BawellWaterIonizers.com when researching to find the best water ionizer brand. Call the Bawell Health Water toll free number at 800-771-7019, to get water ionization information 7 days a week between 10am and 10pm EST, and ask about the Bawell Forever Lifetime Warranty.