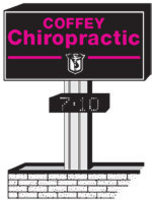 Local chiropractic office recognized for superb chiropractic and massage therapy services.
Auburn, WA (PRWEB) November 5, 2010
Local chiropractic office recognized for superb chiropractic and massage therapy services.
Coffey Chiropractic, the premier community chiropractic clinic in Auburn, recently won the honor of best chiropractic clinic in the Auburn Reporter's best of Auburn contest. Kealsye Fahey, the clinic's resident medical massage therapist, also won in the category of the best-licensed massage therapist.
Auburn Reporter readers cast their votes for their favorite local businesses through the Auburn Reporter's website. The Reporter announced the contest winners September 3, 2010.
About Coffey Chiropractic
Coffey Chiropractic has been recognized for providing outstanding health and wellness services for more than 30 years.
Coffey Chiropractic has a long history of awards, honors and recognitions. Dr. Coffey was voted Pacific Northwest Chiropractor of the year in 1988, and Coffey Chiropractic has been a chosen Member of the Inner Circle of Chiropractic for 15 years.
The Inner Circle of Chiropractic is an elite group of principled individuals committed to the preservation of philosophical Chiropractic. These individual are recognized for the protection, preservation and perpetuation of principled Chiropractic as a lifestyle.
Coffey Chiropractic believes in the "old school" approach of holistic and traditional chiropractic care. Utilizing a comprehensive wellness plan approach, Coffee Chiropractic guarantees client satisfaction by helping people recover from painful and traumatic car, work and sports injuries without the use of drugs and the risk of dangerous surgeries.
Combining advanced chiropractic adjustments, client education, nutritional support and wellness planning, Coffey Chiropractic has helped many people heal and manage pain. Coffey Chiropractic specializes in treatment of neck and back pain, joint pain, headaches, whiplash, car accident injuries, bad posture, physical and emotional stress, and hip pain.
Coffey Chiropractic is looking forward to helping you recover from painful injuries and achieve wellness today! For more information visit http://www.coffeychiropractic.net
Coffey Chiropractic
4701 Auburn Way North, Auburn, WA
253.850.2225
# # #