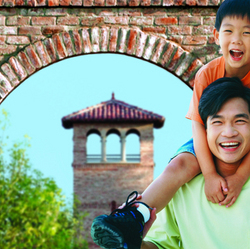 From Irvine's master planned community neighborhoods, wonderful parks and recreation and excellent schools to an incredible commitment to safety, new homes in Irvine make an unparalleled place to call home
Irvine, CA (PRWEB) October 20, 2008
The city of Irvine, home to the Villages of Irvine (http://www.villagesofirvine.com)], recently topped Parenting OC's list of Best Family Neighborhoods. Parenting OC magazine took a look at those special qualities people look for in a home to determine which cities are best for families before designating the Best Family Neighborhoods. Irvine excelled in all of the categories including education, safety and quality open spaces.
"From Irvine's master planned community neighborhoods, wonderful parks and recreation and excellent schools to an incredible commitment to safety, new homes in Irvine make an unparalleled place to call home," stated Tom Veal, senior vice president of Residential Marketing and Product Planning for Irvine Company Community Development.
This is not the first time the city of Irvine and the Villages of Irvine have been honored for quality master planned community neighborhoods. Earlier this year, the Irvine Village of Portola Springs was honored with the Golden Nugget Award for Best Master Planned Community. In addition, the FBI named the city of Irvine the Safest Big City in America for an unprecedented fourth year in a row and Irvine ranked fourth on Money Magazine's list of 100 Best Places to Live.
"These awards demonstrate our success in offering attractive, innovative new homes in Irvine that meet the needs of today's homebuyers as they seek the best family neighborhoods," continued Veal.
With great schools, numerous parks and a commitment to safety, Irvine offers some of the best family neighborhoods. Homeshoppers are invited to learn more about new homes in Irvine by visiting the Villages of Irvine at http://www.villagesofirvine.com or by contacting a New Home Consultant at (888) 820-0721.
About the Irvine Company
The Irvine Company is a privately held, 140-year-old real estate planning, development and investment company best known for the master planned community designs of the Villages of Irvine, the balanced, sustainable communities it has planned and created in Orange County, Calif.
###