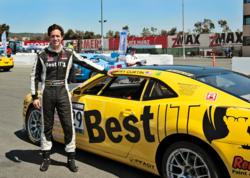 We finished last season proud of what we achieved as a first-time team, but in the offseason we have been perfecting our skills with some of the best instructors, mechanics and crew members in the world - Harry Curtin, CEO of BestIT
Phoenix, AZ (PRWEB) March 21, 2013
BestIT a Phoenix-based services and solutions provider, along with the Bob Bondurant School of High Performance Driving, will launch the BestIT Race Team into its second Pirelli World Challenge series kicking off in St. Petersburg, Fla. this Saturday, March 23 and Sunday, March 24. BestIT CEO and race team captain, Harry Curtin, will be leading the charge along with teammate and 2012 Pirelli World Challenge "Rookie of the Year," Andy Lee, for this double-header weekend.
The Bob Bondurant School of High Performance Driving not only sponsors the BestIT Race Team, but also serves as a training facility and prepares and maintenances the team's two Chevrolet Camaros.
"We finished last season proud of what we achieved as a first-time team, but in the offseason we have been perfecting our skills with some of the best instructors, mechanics and crew members in the world," said Curtin. "Now we're ready to hit the gas and show the competition what we're really capable of accomplishing."
In its inaugural season, the BestIT Race Team took home four first place finishes and one third place finish in the http://www.bestit.com/racing Pirelli World Challenge series. Curtin and Lee were named two of the top racers in 2012 and the BestIT Race Team was named top race crew of the year.
You can watch the BestIT Race Team in the Pirelli World Challenge series live by going to: http://www.world-challengetv.com on March 23, at 5:00 p.m. (EST) and March 24, at 10:25 a.m. (EST). The NBC Sports Network broadcast will air on Sunday, April 7, at 12:30 p.m. (EST).
About BestIT
BestIT is a services and technology provider delivering high-value, client-focused results to enterprises in the U.S. and abroad. BestIT works with organizations to create roadmaps designed to reinstate the collaborative dialog between business and technology. The company helps clients achieve competitive advantages by applying unique approaches to complex business challenges. For more information, visit: http://www.bestit.com.