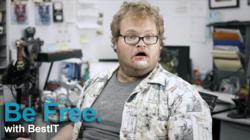 Having our creative vision recognized and awarded speaks to the effort and passion BestIT put into this campaign. -Harry Curtin, CEO of BestIT
Phoenix, Arizona (PRWEB) March 19, 2013
BestIT, a Phoenix-based services solutions provider, has won two ADDY awards from the American Advertising Federation – Metro Phoenix Chapter. The organization won gold and silver ADDY awards, which were presented March 2 at the 28th Annual ADDY Awards Gala hosted by the Phoenix Ad Club and Ad 2 Phoenix.
BestIT championed the "Elements of Advertising" category with the Interface and Navigation gold ADDY award for its campaign featuring quirky BestIT anti-mascot and character "Seth the IT Guy." BestIT also scored a silver ADDY award representing products and services in the "Digital Advertising" category for the same campaign series, which launched in November 2012.
A gold ADDY award represents the highest level of excellence, judged by marketing advertising professionals from across the country. Winners advance on to regional and national competitions.
"Having our creative vision recognized and awarded speaks to the effort and passion BestIT put into this campaign," stated Harry Curtin, CEO of BestIT and visionary behind the project. "Our goal in this process was to resonate with business professionals struggling with technology and intrigue them with our solutions. These awards are proof of a successful endeavor."
The ADDY Awards is the advertising industry's largest competition, attracting more than 50,000 entries every year in local competitions. The award-winning BestIT video was produced by Randy Murray Productions.
To learn more about BestIT, visit http://www.bestit.com for information on BestIT's innovative approaches to enhancing business growth through technological differentiation.