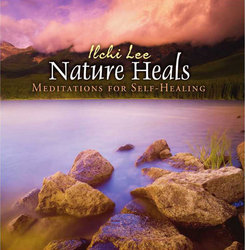 These meditations will enhance your capacity to experience and communicate with the natural world that exits all around and within you.
Sedona, AZ (PRWEB) September 21, 2010
"Nature Heals," a new meditation CD by South Korean-born author Ilchi Lee, was released today by Sedona-based publisher BEST Life Media. The meditations for self-healing include natural sounds, soothing music and guided visualizations that will help you relax, reduce stress and connect with the healing energies of the earth.
For centuries, ancient mystics and indigenous shamans knew what modern science is only now beginning to recognize--nature heals. By tapping into the natural elements, we can step into the flow of nature and balance our body, mind and spirit. Many of us can attest to the soothing effects we feel when walking a sun-baked hiking trail, meandering through a shaded forest, or relaxing by a cool, rushing stream. This is earth wisdom at work.
This new 78-minute audio CD features six elemental properties of the planet--rain, water, sun, trees, wind and earth--that are connected by the cycles of nature. The rain falls, streams fill, sun emerges, soil nourishes, plants grow and the air is oxygenated. It is a never-ending cycle and circle of life, of energy. By tapping into this energy, we can unleash our own natural healing ability.
Nature Heals features six tracks that can be listened to one at a time or in a single continuous session. It can be used indoors or outside. Each meditation uses a specific natural element as the focal point while leading the listener through a guided meditation designed to enhance a particular human quality such as acceptance, purification, personal power, communication, freedom and gratitude.
The meditations are read by Michael Munson, a Dahn Yoga and Brain Education Trainer who travels worldwide, leading seminars and workshops for individual self-mastery and empowerment. Munson has been a student of energy healing and Ilchi Lee's teachings for nearly ten years.
Nature Heals will enhance your capacity to experience and communicate with the tremendous living world that exists all around and within you. By immersing yourself in the elemental properties of the plane, you can encounter the earth's wisdom and witness principles of life that are both hidden and pervasive in the natural world.
Availability:
Nature Heals (ISBN: 978-1-935127-46-8) can be purchased online for $17.95 from BEST Life Media or at your local Dahn Yoga Health or Body& Brain Center. Click here to find a location near you.
About the Author:
Ilchi Lee is a brain philosopher and educator dedicated to creating a healthier, happier and more peaceful existence for all humanity. He is founder of Dahn Yoga and Brain Education System Training (BEST), techniques designed to enhance human potential and quality of life through a variety of mind-body training methods. His self-development programs, used by thousands of people worldwide, are a unique blend of Eastern philosophical concepts and Western scientific understanding. Lee has authored 32 books on topics related to brain development, health and wellness, spirituality and personal growth.
About Best Life Media
BEST Life Media, produces books, CDs, DVDs, and other products that are educational and life enhancing. Brain Education System Training (BEST), which seeks to better the human condition through a variety of self-development techniques, serves as the underlying inspiration for many of their titles. For more information, call (877) 504-1106.
###