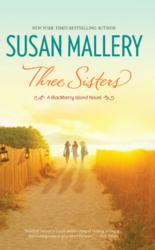 My readers know they can count on me for a happy ending.
Seattle, WA (PRWEB) March 08, 2013
In its first week of release, Three Sisters by Susan Mallery has landed at #16 on the New York Times bestsellers list for trade paperback books, #19 on the New York Times bestselling fictional ebooks list, and #20 on the New York Times combined list for print and ebook fiction. Additionally, Three Sisters has landed at #19 on the USA Today bestsellers list, a list which tracks all books on a single list – fiction and nonfiction, hardcover, paperback, and ebook.
Three Sisters, selected earlier this year by Rhapsody Book Club as a Top New Book of 2013, is about the friendship that transforms the lives of three women who live in neighboring homes on fictional Blackberry Island, Washington near Seattle. In three intertwining storylines, Andi, Deanna, and Boston fight toward happiness through heartbreak, marital problems, grief, even being jilted at the altar. Brought together by geography, the women discover in each other kindred spirits, and their friendship gives each the strength to triumph over pain.
"My readers know they can count on me for a happy ending," Mallery says. "That's a promise I make to them, and I think it's why so many of them rushed out to buy Three Sisters as soon as it was released. They know they can relax into the experience of the story, because when they finish my books, they'll feel good about the world."
A readers' discussion guide has been included in Three Sisters to facilitate book club conversations. For ebook readers, Mallery has provided a printable version of this discussion guide on her Blackberry Island website, http://www.blackberryisland.com. Also on the website are a map and history of the island, as well as an invitation from Mallery to personally call any book club that reads Three Sisters.
The final book of the Blackberry Island trilogy, as yet untitled, is scheduled for release in the spring of 2014.