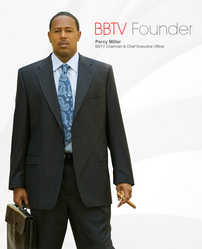 Better Black Television has been a vision of mine for some years
Los Angeles, CA (PRWEB) August 15, 2008
Percy Miller (formerly Master P) announces the launch of Better Black Television (BBTV) a family friendly network that will provide positive content for a black and brown culture that will appeal to all races with a goal to bring people of color a choice when turning on their television. The content on the channel will contain a wide arrangement from health and fitness, animation, financial planning, reality TV, sitcoms, dramas, movies, responsible hip-hop music and videos, politics, sports and entertainment news, educational children's shows as well as teen and family programming. Production has begun and will be based out of California, New York, Louisiana and Florida. In addition, BBTV is in the process of purchasing local cable channel affiliates across the country.
Born in Hollywood, Better Black Television is the brainchild and passion of some of the most diverse powerful, celebrated entertainers, influentials and trendsetters from the Television, Film, Professional Sports, Corporate America and Music industries. These visionaries all share the common goal of enhancing the current television landscape for this highly coveted demographic currently monopolized by only a few significant providers, with fresh, innovative, uplifting and above all family-friendly entertainment. Envisioned and headed by its Founder, P. Miller, a legendary music, film, and television entertainer as well as world-renowned African-American entrepreneur and social activist, Better Black Television is guided, staffed and supported by a highly skilled, talented, and above all dedicated team of professionals that have been working for more than 5 years to make this dream a reality.
"Better Black Television has been a vision of mine for some years," said Miller, BBTV's Chairman & CEO. "I've done a lot to promote and change the way messages are relayed to our children and our families over the last few years. Promoting positive content and positive messages is so important to educate and preserve the next generation. Being exposed to positive content is what changed my life. I believe that there is a market in our community for a new diverse network that provides a new brand of superior programming that caters to all aspects of television from reality to original programming. In addition, I'm excited to be able to expose the urban community to a vast array of jobs in the entertainment community that they might not otherwise be privy to. I have a great relationship with BET and MTV and my son and I will continue to do work with them and support their networks. With BBTV, we're spearheading the initiative to meet consumer demand for family friendly hip-hop content."
The BBTV Advisory Board members consist of some of the most significant entertainers in Hollywood, professional athletes as well as movers and shakers in the community such as Academy Award and Golden Globe winner Denzel Washington; businessman and Academy Award nominee Will Smith; Vault Load Films President, entrepreneur and senior level business executive, Jim Finkl; NAACP Executive Director Vicangelo Bullock; Professional basketball player and businessman Derek Anderson (Charlotte Bobcats); an award winning, 20-year veteran of the cable television and film industry, Professor Sal Martino; businessman, community activist and founding father of hip-hop, DJ Kool Herc; entrepreneur, businessman and animation specialist, Olatokunbo Betiku and community activist, Board President of Nailah House Foster Family Agency, speaker and teacher at Trump University, real estate mogul Curtis Oakes.
Preliminary List of Better Black Television Programming:

Sunset and Vine - Hosted by Vyshonn Miller and Brittany Phillips - This video show will showcase the top 8 at 8pm, the top hip-hop and R&B acts as well as play classic videos and will feature a section where you can vote on new indie unsigned artists who will showcase their talent and the audience will have the option to place them in the "You Pick It Video" section by voting for them online.
One Shot Comedy Show - will consist of clean hilarious comedy and will be hosted by Gary Johnson (a.k.a. G-Thing) and some of the funniest comedians around. And it will give upcoming comedians the opportunity to hit the stage.
Gee Gee the Giraffe - Children's educational show featuring Gee Gee the Giraffe, a magical friend that takes kids on educational adventures focused on reading and writing. (Will air on BBTV Kids Saturday Morning Show).
Manage Your Money - Featuring financially successful people lending information to viewers to help promote financial literacy.
Close to the Starz - A behind the scenes show that takes the viewers up close and personal to their favorite celebrities.
Karma TV Show - Bilingual soap opera with an African-American and Latino cast.
What's Cooking TV Show - Talk show that covers wide aspects of entertainment and current events while cooking and enjoying a good meal. The host and guests prepare healthy, budget-conscious meals.
The Black List Movies - Family friendly content featuring or created by the top filmmakers and actors. From the classics of the past to the biggest stars of today, original BBTV productions to quality independents you'll find them on "The Black List".
Hip-Hop Garage Show - Saturday show that will play nothing but the hottest new and upcoming artists in their latest music videos and interviews selected with content appropriate to BBTV's mission and standards.
"We're extremely proud of our programming that will be airing on BBTV," said Miller. "It's extremely important to feed clean, quality, and positive subject matter to our families. We believe TV content can be positive and responsible and still have good ratings with great content. BBTV will offer all kinds of family friendly entertainment that everyone can enjoy. Our mission is to target the new generation of responsible African-American and multi-ethnic English speaking American and family oriented and responsible hip-hop consumers who are taking charge of their families and striving for a better tomorrow.
"I remember Bob Johnson, founder of BET, telling me back in the day that if you wanted to know real estate, you've got to hang out with real estate investors. If you wanted to know sports, you've got to hang out with athletes. I wanted to know TV, so I hung out with Bob and learned the TV game from one of the best in the business."
Better Black Television Mission Statement:
Better Black Television (BBTV) is committed to being a leading African-American multi-media entertainment company by establishing a distinct, valued, trusted, and socially responsible consumer brand within the African-American and multi-ethnic, English-speaking marketplace. We plan to accomplish this mission by delivering quality, family oriented entertainment and information to the quickly growing urban consumer base of our target audience through the use of television and Internet resources.
Send resumes and videos:
BBTV
7095 Hollywood Blvd. #367
Hollywood, CA 90028
###