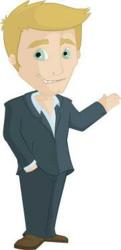 The ABN badge is a way for people to demonstrate their online credibility to others," says Editor Andrew Draughon.
Austin, TX (PRWEB) September 18, 2012
BetterNetworker just posted a new article providing detailed instructions on how members of the ABN (Association of BetterNetworkers) can post the ABN badge and verification seal on their own personal website or blog.
The article includes a video presentation, recorded by ABN member Jordan Schultz, which provides members a visual guide on how to properly add the badge to their website. The article is also accompanied by images, which serve as step-by-step snapshots of the entire process.
The ABN badge is an image that demonstrates a person is a member of the ABN and is therefore someone who upholds the "7 Better Business Practices" BetterNetworker requires in order to remain an ABN Member. These practices include having a "zero-spam" policy, refusing to engage in pyramid schemes or forced matrix programs, and pledging to run a business with honesty and integrity. The badge is linked to the person's profile page on BetterNetworker.com.
"The ABN badge is a way for people to demonstrate their online credibility to others," says Editor Andrew Draughon. "With so many illegitimate businesses and operations taking place on the Internet today, it can be extremely overwhelming for people to determine who's trustworthy and who's not. Having the badge is an instant indicator of the type of person you are and lets a prospect know how you run your business. Having that kind of authority and trust is absolutely invaluable, so we want to make sure that all of our ABN Members know exactly how to get their badge to display on their site."
Many ABN Members currently display the ABN badge on their website and/or blog, including BetterNetworker Instructor Diane Hochman and ABN member Jordan Schultz.
"Most ABN members aren't aware of the fact that they have the ability to use the badge on their website, " says Editor Victoria Garment. "It's an incredible benefit of being part of the ABN, so we created this article in order to educate all of our members so they can take advantage of it."
In addition to being posted on BetterNetworker.com, Garment says that a link to the article and video will also be mailed to all BetterNetworker members in order to ensure maximum views.
The article and video can be found by clicking on the following link:
http://www.betternetworker.com/videos/view/marketing/how-gain-instant-online-credibility-less-5-minutes