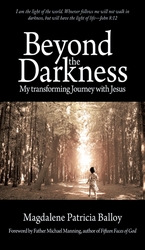 Palm Desert, CA (Vocus) November 2, 2010
Author Magdalene (Madelene) Patricia Balloy's life changed dramatically after Jesus appeared to her in 1963. In her new book Beyond the Darkness (published by iUniverse), she relates her life's journey from her birth on the island of Grenada in the British West Indies and her childhood filled with deprivation and abuse, to her current life as a productive and joyful woman of faith spreading God's love through ministry.
This memoir follows her inspirational path beginning with an out-of-body experience when Jesus, in a glowing robe of pure light, appeared to her. She describes all that has transpired since that phenomenal experience and relates everything of substance in her life's journey as a wife, mother and mystic, since that miraculous born-again occurrence. It was the turning point and beginning of her long life's journey with Christ.
In Beyond the Darkness, Magdalene shares many personal anecdotes and poetry detailing her faith experiences. She explores the doubts, fears and perplexities of life, as a working woman, wife and mother and shares her visions and dreams of her transforming journey with Christ since that memorable night in 1963 to find comfort and guidance in the Bible. This book serves as an inspirational memento to all who may be struggling in their own place of darkness. The following poem is Magdalene's reflection on life.
"Beyond the Darkness!
Life at times seems like an endless journey in a vast wilderness of darkness.
Yet, beyond life's struggles and sadness
There is a nourishing garden of eternal bliss;
And all who achieve admittance to that garden
Reflect its radiant beauty.
For that is the garden of God's purest light.
How do I know?
I have glimpsed into that garden and was enchanted by its light;
Thus, I will not rest until I am completely out of this miserable place of darkness.
I know that as long as I keep moving in the direction of God's pure light,
I will eventually come upon its source.
Then my soul will absorb its purifying rays!
So those who are near me and are approaching the garden of bliss
Will see a reflection of its pure light—shining through me"
About the Author
Magdalene Patricia Balloy is a published poet, a volunteer on the chaplaincy team at Eisenhower Medical Center and a chairperson for Magnificat a ministry of Catholic women. Madelene lives in Palm Desert, California with her beautiful cat Jasmine. She has two sons, one daughter, two granddaughters and three great-grandchildren.
iUniverse is a premier book publisher for emerging, self-published authors. For more information, please visit http://www.iuniverse.com.
# # #