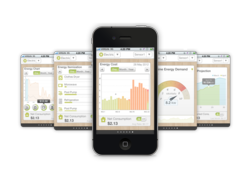 First-of-its-kind machine learning and big data analytics that delivers zero-touch, low cost, scalable energy efficiency.
Sunnyvale, CA (PRWEB) May 02, 2013
Bidgely, a pioneer in residential energy management, announced today that it is supporting Green Button data from utilities – energy usage data provided in a standardized electronic format. Green Button support means that Bidgely's flagship cloud-based software platform can be delivered to residential consumers at a massive scale and a low cost never accomplished before.
Combining mobile, cloud, big data techniques and machine learning algorithms, Bidgely offers a first-of-its-kind analytics that can disaggregate energy consumption data to extract appliance-level insights without any onsite audits or plug-level sensors.
"This is not just another temperature-based regression modeling exercise," says Prateek Chakravarty, Vice President of Business Development and Marketing at Bidgely. "We leverage our patent-pending zero-touch Appliance Tracing™ technology to infer Appliance Profiling™ on Green Button data. A more scientific approach enables us to extract energy consumption insights hitherto unavailable and deliver richer applications to residential consumers."
In addition to working with a number of energy utilities across the globe to offer its platform to residential homes, Bidgely is currently engaged with Pacific Gas and Electric (PG&E) and San Diego Gas and Electric (SDG&E) on the "Connect My Data" initiative. This powerful model allows a consumer to authorize a third-party service provider to receive direct access to their Green Button Data - no need to repeatedly login to their utility and download files. These authorizations are valid for an agreed upon time and can be revoked at anytime by the consumer.
"We, at Bidgely, are deeply committed to fundamentally changing the way residential consumers receive energy information. Green Button is a big leap in that direction. With Green Button, once consumers share their energy data, we take care of all the number crunching and deliver insights that matter," says Abhay Gupta, Founder and CEO at Bidgely. "Consumers have become immune to generic energy saving messages like reduce thermostat set point and turn off lights. Knowing consumption insights specific to the house – and appliances - allows us to make personalized recommendations. For example, Bidgely not only shows how much energy is being by AC, but also analyzes whether the consumption inefficiency results from extensive hours of use when not at home, low thermostat set point or poor building insulation. We thank the White House for initiating open data access in a standardized format via Green Button."
About Bidgely:
Bidgely helps residential consumers understand where home energy is being used and make informed decisions on how to become more efficient at a massive scale and low cost never accomplished before. Underlying Bidgely's cloud-based software is a pioneering zero-touch scalable machine learning technology - Appliance Tracing™ - that analyzes Smart Meter energy data from millions of homes and generates appliance-level insights without any onsite audits or plug-level sensors. Web and mobile apps not only eliminate the need for a dedicated in-home display screen in the house, but also make it convenient for consumers to access their information and receive real-time alerts whether at home or outside. Utilities also benefit through enhanced consumer interactions and targeted marketing, saving millions of dollars on various programs. Incorporated in 2011 and privately held, Bidgely is headquartered in the Silicon Valley. For more information, please visit: http://www.bidgely.com