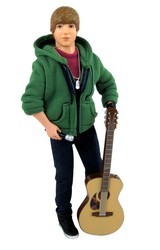 Boca Raton, FL (PRWEB) November 23, 2010
Bravado, the only global, 360° full service merchandise company, and The Bridge Direct, Inc., the global children's consumer products company, are delighted to announce that the Justin Bieber Music Video Collection Singing Figures have been nominated for a 2011 TOTY (Toy of the Year) Award in the Girl Toy category. The TOTY Awards are one of the most prestigious awards in the toy industry, and for the first time ever, consumers will be able to help choose the top toys of the year by voting at http://www.ToyAwards.org, now through January 14, 2011.
The Justin Bieber singing dolls, which are manufactured by The Bridge Direct through a partnership with Bravado, are anticipated to be one of the hottest items for this holiday season. Each doll "sings" a portion of one of Justin's most popular hit songs – either "Baby" or "One Less Lonely Girl" – and comes with cool accessories based on the music video.
"When we first approached Justin about the doll, we never imagined the overwhelming response it would earn from such a broad spectrum of consumers and retailers," stated Tom Bennett, CEO of Bravado. "Jay and his team have done an excellent job of bringing the vision to life and we, along with Justin, are honored by this nomination."
"We are thrilled that the Justin Bieber singing dolls were recognized with a nomination from our peers in the toy industry based on the interest and excitement they have brought to the market," said Jay Foreman, President and CEO of The Bridge. "We're counting on Justin's millions of fans to let us know how much they love the dolls by voting for them to take home the award in February!"
TOTY 2011 Award winners will be announced during an awards ceremony on February 12, 2011 in New York City. The Toy Industry Association-administered event will be held in support of the Toy Industry Foundation and will kick off New York Toy Fair 2011.
The exclusive line of Justin Bieber dolls and toys were launched at the end of September, along with an official website (http://www.justinbiebertoys.com), a Twitter feed (@JBieberToys) and a Facebook Page (Justin Bieber Toys). By early October, several retailers started online pre-sales, and Toys"R"Us began selling the dolls in stores earlier this month. All major toy retailers are expected to have the dolls in stock by early December, while supplies last.
About Bravado
Bravado, the only global, 360° full service merchandise company, develops and markets high-quality licensed merchandise to a world-wide audience. The company works closely with new & established entertainment clients, creating innovative products carefully tailored to each artist or brand. Product is sold on live tours, via selected retail outlets and through web-based stores. Bravado also licenses rights to an extensive network of third party licensees around the world. The company maintains offices in London, Los Angeles, New York, Berlin, Paris, Tokyo and Sydney. Now under the Universal Music Group umbrella, Bravado is able to leverage a global sales and distribution network from the world's largest record company, as well as the group's significant marketing strength. In addition to Justin Bieber, Bravado artists include The Rolling Stones, Michael Jackson, Paul McCartney, Kanye West, Beyonce, No Doubt, Nickelback, Lady Gaga, Katy Perry, Elton John, Guns 'N Roses, Metallica, Led Zeppelin, Green Day and The Killers, among many others.
About The Bridge
The Bridge Direct, Inc. is a global children's consumer products sourcing and supply chain management company that provides strategic support and resources to licensors, manufacturers, retailers and distributors. The Bridge's services include product development, manufacturing, line planning and management, branding, sourcing, quality control and supply chain management, as well as financial, administrative and sales support. Upcoming product lines from The Bridge include: Zhu Zhu Pets™ plush, figures and playsets, Bobby Jack toys and novelties, Busytown vehicles and playsets, and the Justin Bieber toys. To find out more about The Bridge, please visit http://www.thebridgedirect.com.
# # #