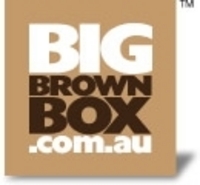 Australian consumers are far more comfortable shopping online now, and have been telling us they want to be able to jump on the internet to make their purchase, and to have a large range of quality electrical brands available at the click of a mouse
Sydney, NSW (PRWEB) December 24, 2008
Online shoppers are being promised great deals 24-hours a day with the launch of BigBrownBox.com.au, a new online electrical store that aims to provide Australian consumers with an innovative retail experience.
General Manager, Peter Krideras, said BigBrownBox.com.au would offer consumers nation-wide a great range of top brand products at competitive prices as well as free home delivery, as part of its promise to provide shoppers with 'great deals - everyday'.
"Australian consumers are far more comfortable shopping online now, and have been telling us they want to be able to jump on the internet to make their purchase, and to have a large range of quality electrical brands available at the click of a mouse," Mr Krideras said. "There is extensive product information on the site to help shoppers compare products. Consumers will also save time as they no longer have to spend their weekends driving from one outlet to the next looking for what they want, and then having to haggle for the best price."
Mr Krideras said the company was giving consumers competitive prices, the convenience of a one-stop-shop, and the added bonus of free delivery throughout Australia - potentially saving shoppers from a hefty post-purchase charge.
"When we conducted our research we found a large proportion of consumers felt they were being overcharged by the hefty delivery fees when buying electrical and whitegoods," he said. "Shoppers are also going to find our prices extremely competitive across the entire range of electrical and whitegoods products, including all the big brand names like Sony, Apple, Fisher & Paykel, LG , Westinghouse, NEC and Acer, to name just a few."
"I think our service and offering will really intensify competition and consumers can only benefit from that, particularly with BigBrownBox.com.au being accessible 24 hours a day and with free delivery. Our focus really is to provide 'great deals - everyday'," Mr Krideras said.
As part of the promise to provide great deals everyday, BigBrownBox.com.au will run a "Shoot and Win" competition with $10,000 worth of electrical products up for grabs. In addition, every week the site will be running a game of skill competition where entrants can win prizes including an Apple iPod Nano, Cybershot camera and GPS Navman*.
BigBrownBox.com.au's parent company, RR Australia, is a reputable retailer that has been in the business in Australia for over 70 years and is listed on the ASX.
###