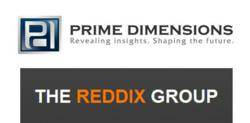 We offer proven approach for rapidly imagining, prototyping and building solutions to solve complex problems and fuel economic growth through innovation and thought leadership.
Fairfax, VA (PRWEB) March 29, 2013
Prime Dimensions, LLC, announces that it has joined The Reddix Group, LLC's Integrated Program Team, a networked consortium of 17 companies headquartered in Hanover, Maryland. This alliance further demonstrates the necessity for a multi-disciplinary approach, network-based collaboration and entrepreneurial thinking to accelerate innovation and transformative impacts, by harnessing the creativity, ingenuity and practicality of agile design-impact teams. Prime Dimensions will collaborate with The Reddix Group to identify and pursue business opportunities related to information management, Big Data and advanced analytics.
With proven leadership, management experience and technical expertise, Prime Dimensions complements The Reddix Group's capabilities by offering a business-focused, user-centric approach to articulate a compelling value proposition, offer exceptional customer experience and deliver measurable, tangible results. The features and benefits of this alliance represent a thorough, effective, and structured approach for bringing best-in-class solutions to our target vertical markets, including healthcare, government, education and media. This relationship bolsters our efforts in pipeline building and channel development, and through joint marketing initiatives, we are well-positioned to offer clients a fully integrated solution.
Richard Rowan, Prime Dimensions' Managing Director commented, "Federal agencies and corporations are drowning in a rising sea of data, and the expectation and pressure to deliver measurable results and meaningful change has never been more pronounced. The digital age and proliferation of new platforms and devices has led to an explosion of Big Data that is becoming more complex and difficult to analyze. Through this alliance, we can deliver rapid prototypes that will enable next-generation Big Data analytical solutions."
The Reddix Group was founded on the notion that the traditional means of acquiring, developing, and deploying products and services through hierarchical prime-sub contracting model are no longer effective, efficient or suitable, given advances in technology characterized by the abundance, ubiquity and democratization of information. According to Joe Reddix, The Reddix Group's President and CEO, "Prime Dimensions adds an ability to create business value with a Lean Startup and Design-Impact to the consortium, using network-based collaboration and entrepreneurial thinking to accelerate innovation and transformative impacts. In our opinion 'Our Network is the Prime", and instead of thinking out of the box, we say 'There is no Box.'"
About Prime Dimensions, LLC
Prime Dimensions, LLC provides professional consulting services in data management, business intelligence and advanced analytics, with focus on operational aspects and emphasis on Big Data strategy and technology. We offer related domain expertise in areas such as performance management, decision optimization, fraud detection and incident management. Through our results-oriented, outcomes-based delivery model, we provide innovative, feasible solutions for addressing clients' information management challenges. We offer a framework for establishing an Analytics Center of Excellence within organizations to define roles and responsibilities and coordinate activities and tasks among key stakeholders. Among our strengths is our ability to inform and influence clients based on fact-based, objective recommendations. Our team of highly skilled professionals assists organizations in establishing a Big Data strategy for extracting, consuming and sharing information from massive amounts of disparate data across multiple internal and external sources. For more information, please contact us at info(at)primedimensions(dot)com or 703-861-9897, visit us at http://www.PrimeDimensions.com, and follow us on Twitter at @PrimeDimensions.
About The Reddix Group, LLC
As an alternative to the traditional, hierarchical prime-sub contracting model, The Reddix Group's Networked Team approach is truly innovative and a re-usable strategy across the Federal government. In addition, our thought leadership on policy combined with a management philosophy that focuses on high performing, Integrated Program Teams (IPTs) brings together requisite subject matter expertise at the task level for delivering measurable, tangible results. While typical, status-quo contract teams are stifled by pre-determined qualifications, constrained resources and inability to adapt, our approach is designed to foster collaboration, deliver innovative solutions and improve operational effectiveness. There is tremendous value in leveraging our relationships with prominent government and industry senior-level executives. By engaging these influential leaders in a substantive dialogue for solving complex problems on a national and global scale, The Reddix Group offers a competitive advantage and unique selling point that is well-articulated and extremely powerful. Moreover, given the economic uncertainty, fiscal mess and budget reductions, it is imperative to embark on a different path for winning business in these market conditions. For more information, please contact us at info(at)reddix(dot)com or 410-419-1467, visit us at http://www.reddixgroup.com.