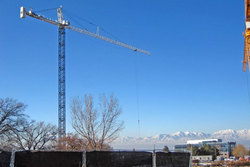 Salt Lake City, Utah (Vocus) June 19, 2010
Bigge Crane and Rigging, one of the largest engineered heavy lift and rigging firms in the U.S., is assisting in the construction of a new USTAR facility at the University of Utah.
Employing a Peiner SK 415 tower crane, Bigge is helping to construct a new 200,000 square foot facility as part of the Utah Science Technology and Research (USTAR) project on the U of U campus. The new building, expected to be completed in 2012, will be named the the James L. Sorenson Molecular Biotechnology Building - A USTAR Innovation Center. Once completed, it will serve as a center-point between the colleges of Engineering and Health and Medicine.
At the outset of the project, Bigge erected both their own tower crane using a Manitowoc 888 Crawler Crane and a Liebherr 420 tower crane operated by the general contractor. Both tower cranes will work in concert to keep the construction on the complex on schedule. Bigge will operate the Peiner SK 415, equipped with 246 feet of jib and with a hook height of 215 feet, until the completion of the project.
About Bigge Crane
Bigge Crane and Rigging is one of North America's largest crane sales and crane rental companies. Bigge offers completely turnkey operated and maintained crane, trailer, and construction hoist rentals. Our fleet is specifically outfitted with large crawler, tower, and rough terrain cranes for refinery work, wind turbine erection and maintenance, and industrial and commercial construction. Bigge's tower crane service is available across the country with engineering support, factory trained technicians, and assisting cranes dispatched from any of our thirteen U.S. locations.
# # #