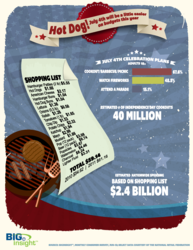 Average Cost of a Cookout Down from 2011
Worthington, OH (PRWEB) June 28, 2012
Despite consumers' concerns with rising food prices, grocery stores are sparking more budget-friendly 4th of July cookouts this year. According to a special BIGinsight™ analysis, the average price of an Independence Day picnic is down a few dollars to $59.14 (from $61.16 in 2011). The total nationwide spend on cookouts is estimated to be $2.4 billion based on a shopping list of cookout staples.
Click here for complimentary infographic and report.
"With grocers relying on select loss leaders to drive consumers into their stores for the upcoming 4th of July holiday, we may see a few fireworks among competing retailers," said Pam Goodfellow, Consumer Insights Director at BIGinsight. "Expect budget-oriented shoppers to rely on ad circulars, coupons, and even their mobile devices as they seek out the best prices for their cookout supplies – which may or may not be at their favorite grocery store this year."
67.6% of Americans plan to celebrate July 4th with a cookout, rising from 64.4% in 2011, according to the annual National Retail Federation/BIGinsight™ Independence Day Survey. To view the complete findings, click here.
About BIGinsight™
BIGinsight delivers customized timely market intelligence from various sources through its cloud-based technology-driven Integrated Solutions Platform. Solutions are delivered on multiple devices (PC/Tablet/Smartphone) through the InsightCenter™ tool using diverse information sources relevant to clients' business needs. http://www.BIGinsight.com
###
Contact:
Pam Goodfellow, Consumer Insights Director
pam(at)biginsight.com
Chrissy Wissinger, Senior Manager, Communications
chrissy(at)biginsight.com
614-846-0146