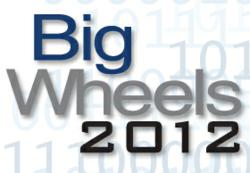 New York, NY (PRWEB) June 06, 2012
Auto loan outstandings in the United States took a step forward in 2011, inching higher as the auto finance sector continued to exhibit strong performance after the Great Recession. For the second straight year, the combined portfolios of the Top 100 financiers increased, according to the annual Auto Finance Big Wheels ranking of car lenders and lessors which was released today.
"The auto finance landscape continues to improve, evidenced by origination and portfolio growth at most of the top 100 companies," said Marcie Belles, Senior Consultant, Auto Finance Advisors. "This year, increased competition and looser underwriting standards will likely spur originations to levels unseen since 2007."
Loan and lease originations hit $367.7 billion last year, up 12.5% from $326.8 billion in 2010 according to the report, published jointly by Auto Finance News and Auto Finance Advisors, which also ranks the Top 100 auto finance companies in the nation.
Ally Financial led the field of financiers with $73.2 billion of loans and leases outstanding, topping Toyota Motor Credit by nearly $10 billion.
The top 10 auto finance companies in the U.S. in 2011:
1. Ally Financial Inc.
2. Toyota Motor Credit Corp.
3. Chase Auto Finance
4. Ford Motor Credit Co.
5. Wells Fargo Dealer Services Inc.
6. Bank of America Dealer Financial Services
7. American Honda Finance Corp.
8. BMW Financial Services
9. Nissan Motor Acceptance Corp.
10. Capital One Auto Finance Inc.
ABOUT AUTO FINANCE BIG WHEELS
The Auto Finance Big Wheels data report is the nation's only tabulation of auto lending and leasing. The report uses a wide range of data to formulate its ranking of the top 100 auto finance companies. The report has been published annually since 1999, and is published jointly by Auto Finance News and Auto Finance Advisors, the auto finance industry's leading consultancy. Members of the media can receive commentary on the data by contacting Marcie Belles at 212-991-6733 or mdbelles(at)royalmedia(dot)com. Find out more about Auto Finance News and Auto Finance Advisors by joining our group, Auto Finance Executives on LinkedIn and following us on twitter @AutoFinanceNews.