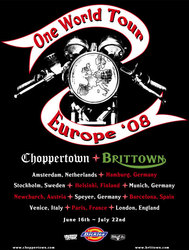 A bike isn't finished until you put some miles on it with your bros.
Los Angeles (PRWEB) June 2, 2008
California Biker Culture Tours Europe.
The much anticipated One World Tour sponsored by Dickies kicks off on June 18th in Europe with an underground screening event in Amsterdam; finishing on July 19th with a grand finale at the world famous Ace Cafe in London. Featuring the critically acclaimed cult biker films from Los Angeles based One World Studios, this is a movie-event series both for bikers and anyone keen on learning more about the special ties between men and their two-wheeled machines.
The featured films on the twelve city tour are the award-winning cult phenomenon Choppertown: the Sinners and the just-completed follow up film Brittown. Widely considered to be the most important biker documentaries in over thirty years, the One World Tour will be the first time many in Europe have had a chance to see these seminal films set in the real world of Kustom Kulture. Producer/directors Scott Di Lalla and Zack Coffman will also be touring with the films offering fans to sit down and enjoy a pint with the creators. Coffman describes the events as, "Screenings of the film will be more like cultural events than just traditional sit-down screenings. We want people to bring out their bikes, eat good food and enjoy the free giveaways from the sponsors…and of course enjoy the films! 10 countries in five weeks...it's gonna be a wild trip." DiLalla adds, "We want to thank our fans and friends without whom we never would be able to continue following our dreams. See you on the road." (Breaking news: Kutty Noteboom of Choppertown will also be in attendance in Germany!)
"Choppertown" focuses on a renowned group of California bikers known as the Sinners. Produced in 2005 with a stack of credit cards, this award-winning documentary heralded a return to the values of a simpler time. The anti-Hollywood picture shows the true story of a young Sinner and his biker brothers as they help him build an old-school custom bike from the ground up. Not interested in the newest expensive parts, these are real guys who use their hands to make a part when there's no money to buy it. Their motto: "A bike isn't finished until you put some miles on it with your bros." Featuring several well-known Sinners such as rocker James Intveld, insane skater Jason Jessee, custom builder Cole Foster, and Kutty Noteboom.
"Brittown" is also set in California but with one major difference: Triumph stars instead of Harley - and is all about one group's obsession with motorbikes from England as seen through the eyes of a gifted mechanic named "Meatball" who restores vintage Brit bikes, runs the Hell On Wheels bike shop, competes in vintage races a la Steve McQueen, and is the lead-singer of rock band Smiling Face Down.
Screening in Europe for the first time, Brittown accompanies Meatball in his workshop, on the road, and at bars and pubs - taking an insider's look at the Brit bike scene in So Cal.
The events are for bike enthusiasts, indie film lovers, and anyone with a curiosity about a world not usually seen. This is the perfect place for those wanting to talk skoots or talk film and offers a unique opportunity to meet with the producer/directors Zack Coffman and Scott Di Lalla, who will be accompanying the road show personally.
Agenda of the One World Tour sponsored by Dickies 2008:
18 June Kick-off Party and screening in Amsterdam, Netherlands - at "The Movies" 10pm
20 June Hamburg Harley Days, Germany - at Hafenbahnhof 8pm
23 June Stockholm, Sweden - at Debaser 6pm
25 June Helsinki, Finland - at Texas Bar 8pm
26 June Munich, Germany - at Land Unter 6pm
28-29 June Newchurch, Austria - Tridays
30 June Speyer, Germany - at The Flaming Star 8pm
3 July Barcelona, Spain - Bread & Butter
8 July Paris, France
12 July Venice, Italy - at Gasoline Bar Jesolo
19 July London, UK - Tour finale at the world famous Ace Café!
Additional Stateside screenings include:
14 June Chicago, IL - Mods vs. Rockers
25-27 July Lexington, OH - AMA Vintage Days
2-3 Aug. Hammondsport, NY - Glenn Curtiss Museum
6 Aug. NYC, NY - Anthology Film Archives 10pm
Supporting sponsors include:
Lowbrow Customs
Biltwell Helmets
Dice Magazine
Custombike Magazine
Gasoline Magazine
Ton Up Stockholm
Kopteri Magazine
Voodoo Beat
Triumph Tridays
Gasoline Road Bar
Ace Cafe London
Choppertown: the Sinners is available through Choppertown.com as well as all major DVD outlets such as Amazon, DVDEmpire, Netflix, and iTunes.
Winner of several awards including Best Documentary at the Temecula International Film Festival, Hollywood DV Festival and Park City Film Music Festival.
About One World Studios Ltd.:
One World Studios is a fully integrated media company specializing in the production and distribution of films, DVDs, music CDs and books; online and through traditional distribution methods.
About Dickies:
Since its beginnings in Fort Worth, Texas in 1922, the Williamson-Dickie Manufacturing Company has grown from a humble manufacturer of bib overalls into a global brand powerhouse, with DICKIES work pants, shirts, denim, outerwear, school uniforms, outdoor gear, medical and chefs apparel and an extensive licensing program offering sturdy head-to-toe clothing options for hardworking men and women of all ages, professions, regions and interests. Williamson-Dickie operates through subsidiaries in North America, Canada and Europe as well as exclusive distributorship around the world.
###